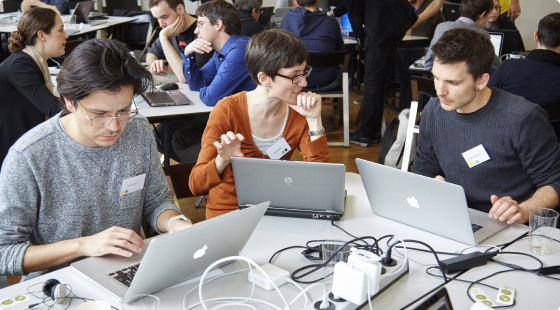 What are the Benefits of a Hackathon?
What are the Benefits of a Hackaton?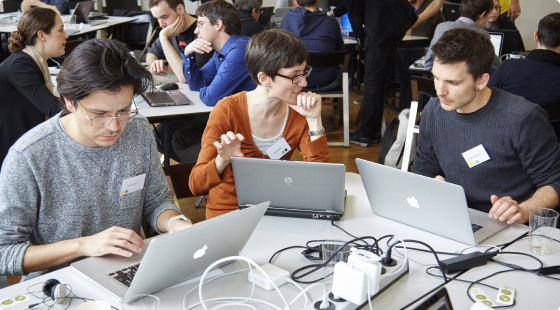 A Win-win for Companies and Participants
Hackathons offer numerous benefits for both the sponsoring company and participants. Companies can use hackathons to accelerate innovation and generate new products, services, and solutions that help gain or maintain a competitive advantage. It's a great way for companies to promote employee development and retention, as well as networking and team building. It also signals to prospective employees, shareholders, and the broader business community that the sponsoring company is invested in innovation, potentially enhancing brand reputation, quality of job candidates, as well as shareholder value.
Hackathon participants are likely to not only have fun working on cutting edge problems, but learn new skill sets while networking and discovering career opportunities. Top teams might even achieve recognition and rewards for their effort.

Here's a list of common benefits both company sponsors and participants can typically expect from a hackathon.
Benefits for Companies that Sponsor Hackathons
Generate new ideas for products, services, or solutions
Hackathons are a powerful way for organizations to inspire and challenge participants to think out-of-the-box in order to identify new products, services, and technical or business solutions.
Since its launch, Facebook has run over 50 hackathons, and they form an integral part of the company culture. The platform's features such as 'Donations,' 'Safety Check,' and even the 'Like' button were all products of their internal hackathons.
Shutterstock has gone on record with TechCrunch stating that their Suggested Images feature, as well as their Artistic Grant Program, and the Compositor tool for combining Shutterstock videos and music, are all ideas that emerged from hackathons.
Courier, an API and web studio for development teams to manage all of their product-triggered communications in one place, has said in their blog "internal hackathons have not only led to better products and smoother customer experiences, but they have also engaged employees and promoted teamwork."
Accelerate innovation and rapid prototyping
Not only can a hackathon generate new ideas for products and services, but it can expedite the innovation process, from concept to prototype, over the course of a few days or less (not including the months of planning prior to the event). Of course, further validation and development is necessary before funding the idea, but the hackathon nevertheless rapidly advances the idea through the first few stages of innovation.
Promote employee development and retention of top talent
A hackathon provides the chance for employees to try new things, making the workplace more inclusive by allowing people to work on projects they don't normally get to work on, with others outside their team. The creativity encouraged at the hackathon is a fun opportunity to bond with coworkers while stretching their imagination.
Encourage internal networking
In a time where many organizations have adopted either a hybrid or fully remote model, it's essential to get the teams to interact with each other beyond communication apps like Slack and Teams. A hackathon is one way to facilitate networking and deeper relationships.
Showcase the organization as supportive of and invested in innovation
Hackathons generate valuable PR opportunities. Your company can leverage the reach each cosponsor brings to the table, garnering attention from local, and in some cases, national media outlets. This is an opportunity to show that your brand is relevant and aligned with innovation, important factors for job candidates. "Today's top candidates prioritize an organization's capacity for innovation when making career decisions, meaning that recruiters and hiring managers at companies that ignore disruptive trends and technologies may find themselves scraping the bottom of the barrel in terms of talent" said Jason McDowell of Recruiter.com.
Innovation excites not only employees but shareholders too. According to a recent Forbes article, "Innovation is the main reason behind high valuation multiples because investors are willing to pay a premium for ventures that have a possibility of rapid growth while potentially creating a defensible solution. Since risk and opportunity are the main growth drivers behind any project, innovative projects simply have a much higher chance to grow than non-innovative ones."
Identify promising new talent
Hackathons are opportunities to find new talent. Within the timeframe of the hackathon, organizations can quickly evaluate participants' technical, problem solving, and interpersonal skills.
One way companies can create a pipeline of quality talent is to cosponsor a hackathon with a university. This is a great way to gain brand awareness with young talent and demonstrate that your company is invested in innovation and welcomes fresh thinking. This is a mutually beneficial partnership as universities are also looking to build relationships with the local business community, showcase their investment in innovation, and help their student body find career opportunities.
Benefits for Participants in a Hackathon
Gain access to new ideas and innovation
Hackathons provide an opportunity for participants to experiment with new ideas, explore new technologies, and build prototypes of their products in a short amount of time. This fosters innovation and creativity and can lead to the creation of new and exciting products.
Expand your community and discover career opportunities
Hackathons are a great opportunity for participants to network with other like-minded individuals and make connections that can help advance their careers or projects. Participants can gain recognition and credibility for their business ideas, problem solving, and technical skills. This can open doors to full time employment or funding for a startup.
One of countless examples of startups that were formed at hackathons is the group messaging app, GroupMe, that met and built their prototype at TechCrunch Disrupt in 2010. GroupMe subsequently raised over $10.6 million in funding. Just one year into the venture, the popular group messaging app was acquired by Skype for a whopping $80 million.
Learn new technical skills
Participants can learn new skills, such as programming languages or design tools, and practice these skills in a supportive and challenging environment. There are often mentors with technical or subject matter expertise volunteering their time to help support participants. The competitive nature of hackathons can be a fun and exciting way to motivate participants and encourage them to push their skills to the next level.
Learn interpersonal and teamwork skills
Hackathons are a collaborative environment where participants can work together in teams to build something greater than they could individually. This fosters teamwork, communication, and problem-solving skills.
Support a meaningful cause
Some hackathons focus on social and humanitarian issues, such as healthcare, education, or the environment, and challenge participants to build solutions that address these issues. While this is meaningful in and of itself, it can also lead to career and networking opportunities that are aligned with participants' values.
Achieve recognition and awards
Many hackathons provide the potential to win prizes or have the winning idea selected for implementation by the sponsoring business. This can lead to new job opportunities, funding, or promotions within a company.