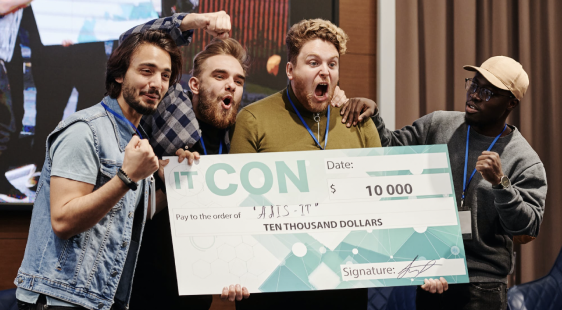 Awards for hackathon participants and winners
Awards for hackathon participants and winners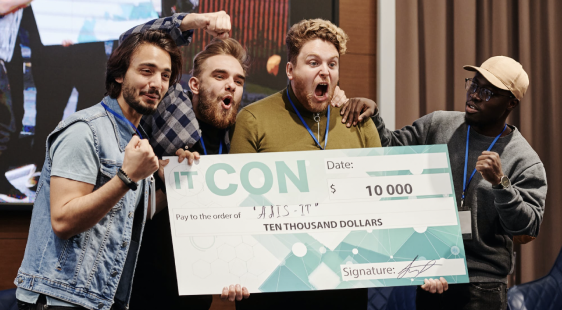 Inspire the best from your participants
A hackathon event should provide meaningful prizes or rewards that are relevant to the theme of the event and valued by the participants. Recognizing and rewarding the achievements of hackathon participants can motivate them to excel and fosters a sense of accomplishment. Here are a few popular incentives you can offer your hackathon participants.
Cash prizes
While cash isn't usually the most sought after reward at a hackathon, you nevertheless can't go wrong offering a cash prize. One advantage of a cash prize is that it's a reward everyone can use regardless of their professional role or career path. The shortcoming with cash prizes is that it doesn't extend the link with the event like a product reward can.
Products and subscriptions
If your participants are a particular demographic, such as software developers, then you can confidently offer a specific product that you know that demographic would like. For example, developers may appreciate new tech (tablets, smart watches, drones, Amazon echo, portable harddrives, laptops, etc.) You could also provide discounts or free access to relevant products or services, such as software subscriptions or educational resources to help advance their skills.
Products and subscriptions can have a higher perceived worth than their actual monetary value since they deliver additional value after the event has ended. Product awards are a smart choice because they establish a positive link between their everyday use and the hackathon event.
Extra PTO days
Extra PTO days are a compelling award if you're hosting an internal hackathon for your employees. Make sure this is approved by HR and the managers of all participating employees.
Trophies and certificates
While it's probably not enough of an incentive on its own, participants enjoy tangible symbols of achievement, such as trophies, plaques, or certificates in addition to a reward. These symbolic gestures create a photo worthy moment and offer a low cost way for you to extend the positive memory of the event.
Networking and opportunities for further development
Grant winners access to mentorship, resources, or funding to continue working on their projects. This can be a highly appealing reward as hackathon participants are typically interested in attending the hackathon in order to advance their skill sets and careers. This is true whether it's an internal hackathon event for a company's employees, or an external event where participants are looking to get noticed by recruiters, investors, or startup teams.
Exposure and promotion
Regardless of what kind of awards you plan to offer, participants will want to see that you're planning to showcase winning projects on the event website, social media, or other platforms, increasing visibility and recognition for the winning teams.