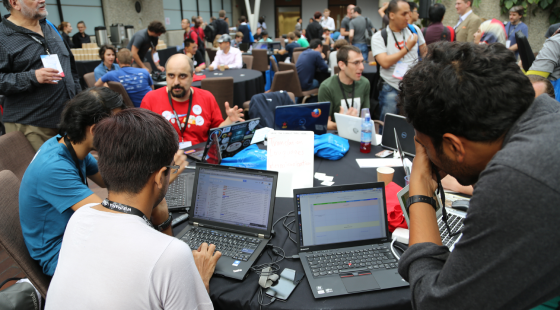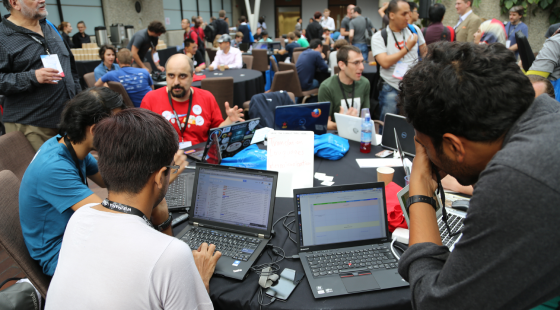 What is a Hackathon?
A hackathon is an event where people come together to work collaboratively on a project, usually in the technology or programming space. Participants work on solving a problem or building a prototype over a set period of time, often ranging from 24 to 48 hours.
What's an internal employee hackathon?
An internal hackathon is a hackathon sponsored by the company for its employees. The goal of such a hackathon is to generate fresh thinking, team building, intrapreneurship, and increase employee engagement and retention. An internal hackathon can help an organization develop a new perspective on existing problems as well as uncover new ideas and opportunities. Employees typically report enjoying the freedom of thinking and creativity that's encouraged at internal hackathons, resulting in a boost to their job satisfaction.
What's an external hackathon?
External hackathons enlist the help of outside talent and foster relationships with an external community, such as the developer or data scientist communities. This type of hackathon is frequently used to attract new employees, garner media attention, and build strategic relationships.
What's the difference between a hackathon and a shark tank?
Hackathons are intended to create a functional software or technical solution, while a shark tank, or pitch event, is about presenting new business or product ideas.
Who can participate in a hackathon?
Hackathons are open to anyone who is interested, regardless of their background or skill level. Some hackathons may have specific knowledge and skill level requirements, or a focus on a specific demographic, such as women in tech, but many are open to all.
How long does it take to plan a hackathon?
The timeline depends on the scope of your hackathon and whether it's an internal employee hackathon, an external hackathon, or a hybrid event. In many cases, a hackathon takes at least 12 weeks from start to finish. This accounts for an average of 8 weeks of preparation time where you'll be identifying sponsors, getting approval from stakeholders, providing clear expectations for participants, creating your communication plan, and generating interest. The subsequent two weeks will be spent launching — building teams, crafting the hackathon scorecard, planning event logistics, training evaluators, evaluating ideas, and narrowing down to the finalists. In the last two weeks you'll recognize all participants, select finalists, announce winners, and set expectations for what's next.
What do I need to bring to a hackathon?
You should bring any necessary equipment, such as a laptop or tablet, as well as any materials or tools that you may need to work on your project. Food and drinks are often provided, but it's a good idea to bring some snacks and water as well. The hackathon sponsor usually has a list of what hackathon tools, food, and resources they'll provide and what you're expected to bring for yourself on the hackathon website.
What should I expect at a hackathon?
At a hackathon, you can expect to work closely with other participants and mentors to build a project or prototype. You may attend workshops or talks on specific topics, and there may be judging or presentations at the end of the event.
What are the benefits for a company hosting a hackathon?
Companies can use hackathons to accelerate innovation and generate new products, services, and solutions that help gain or maintain a competitive advantage. It's a great way for companies to promote employee development and retention, as well as networking and team building. It also signals to prospective employees, shareholders, and the broader business community that the sponsoring company is invested in innovation, potentially enhancing brand reputation, quality of job candidates, as well as shareholder value.
What are the benefits for an individual participating in a hackathon? 
Hackathon participants are likely to not only have fun working on cutting edge problems, but learn new skill sets while networking and discovering career opportunities. Top teams might even achieve recognition and rewards for their effort.
Do I need to have coding experience to participate in a hackathon?
While having coding experience can be helpful, it is not always necessary. Many hackathons are open to people with a variety of skills, including design, marketing, and project management.
What do I do if I don't have a team for a hackathon?
Many hackathons have team formation activities or allow you to pitch an idea to find team members. You can also attend the event and network with other participants to find a team.
What happens to the projects after the hackathon is over?
The outcome of the projects can vary, some may continue to be developed by the same team, or they may be abandoned. In some cases, the projects may be presented to investors, incubators, or accelerators for further development.