Reading Time:
9
minutes
Stay Bright
As children, each of us comes into this world the same. Innocent. Infinitely curious. Pure. But life —real life— has a way of intervening on all of that … of not quite meeting our expectations … and can start to hold our idealism hostage.
The past two years have been, 'a gut punch.' Dark days and nights, full of uncertainty, economic instability, restrictions on personal contact. Which are many of the very things that make our lives worth living. Nature demanded a reboot, and we were forced to oblige.
But every day we have a choice. Will we meet the darkness with bitterness and cynicism, or fire the spark of our imagination and project the light of optimism and progress?
"Stay Bright," is a phrase we use at Brightidea, to remind ourselves that, whatever challenges lie in our path, we are greater than them. That, when doing something new, difficulty is to be expected, but never yielded to. As we look towards the future, we want to share with you our mantra and we hope that you find reason to, "Stay Bright," as we journey forward together into the opportunities that the future presents us.
As we wind the year down, and lean on our traditions to give us strength and a sense of stability, we offer a few bright spots from our recent development efforts. Our Winter Release includes features, enhancements and upgrades that focus on driving increased productivity and seamless flow of ideas from initial brainstorms to intake and through to project execution and implementation. So let's unwrap what's in this release.
Brightidea ↔ Slack Integration 3.0
Brightidea has long been integrated with Slack to support pushing updates from Brightidea into your project or team channels so that everyone can stay in the loop with idea progress updates. With this update, we wanted to solve for Slack users that receive feedback and ideas from many sources everyday, so we made it incredibly easy to push ideas from Slack into Brightidea. Now, you can push ideas directly into Brightidea with just a few clicks, and circle back to work on those ideas when time permits. With Brightidea ↔ Slack 3.0 those impromptu ideas will never be forgotten or lost in your Slack channels.
Now you can:
Send ideas from direct messages, public and private channels to Brightidea.
Capture messages, links and attachments when sending to Brightidea.
Preview of ideas included in Slack upon idea submission.
Includes links back to Slack source on idea submission so that you can easily surface the original conversation.
Ready to connect Slack to Brightidea? Go ahead and check out our knowledge base article to find all the information you will need to get Slack connected and start sending ideas to Brightidea today.
New Integrations
We have updated our integrations page to include several new integrations that are now possible via Zapier and Webhooks. New integrations we now support include:
Airtable
Asana
Zendesk
ServiceNow
Monday.com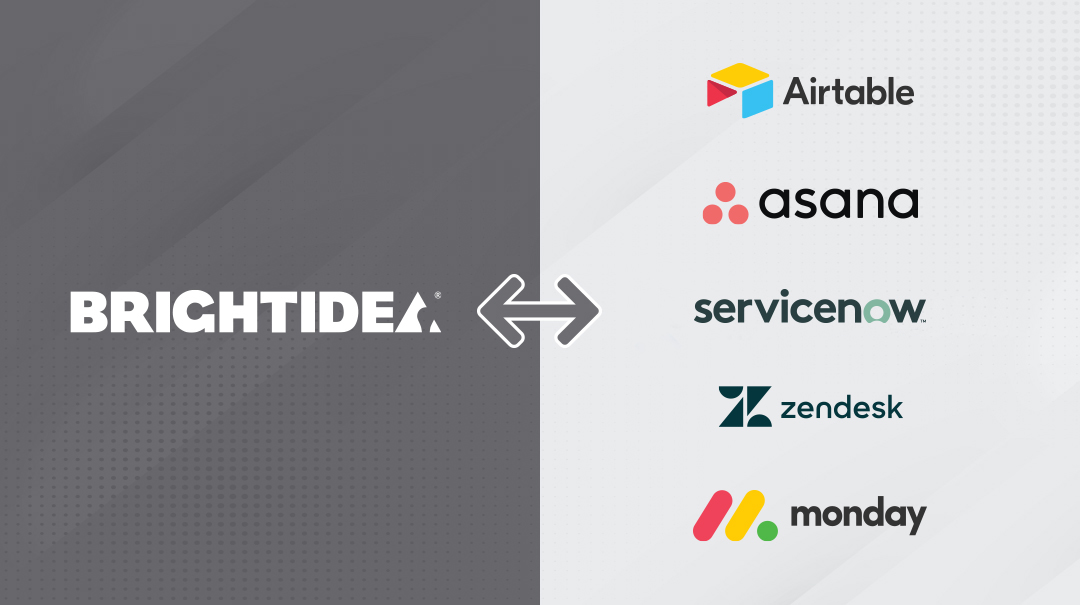 Want to learn more about how to set up these integrations? No problem! Just head over to the integrations page and click on the integration you would like to learn more about.
Whiteboard Updates
Fast on the heels of our Brightidea Whiteboard release in September, we have kept the momentum going and are excited to announce several updates to Brightidea Whiteboard that we hope will bring everyone some added cheer.
New templates: SWOT Analysis, Customer Journey, and Business Model Canvas join the available templates.
Pan: The scroll improvement has been added to the toolbar in the form of a hand icon to allow users to pan around the Whiteboard by clicking and dragging.
Line Tool: The new line tool has been added to the Shapes toolbar which allows you to easily create lines.
Doodles: Located within the Reactions toolbar, Doodles are a fun new way to quickly add hand drawn content and richness to your Whiteboards.
Save a copy: You can now create a copy of any Whitebaord from Userhome via the dropdown menu in the gallery view.
All of these enhancements are now live when you use Whiteboard.
A few more things…
Let's unwrap the last few surprises left in our bag! 🎁
You can now add word limits to both short and long term submission and development fields. Once the word limit is reached, no more text will be added to the field. Video attachments can now appear via a video embed player above the description area of an idea as well as on action items and in pipeline view. From the Apps Pillar, you can now use the Duplicate Initiative popup to duplicate an existing Idea Box.
Thank You for Your Gift
Most would agree, gift giving is an art, and our customers have impeccable taste. We cannot say enough how humbled we are to have received several G2 Crowd Awards yesterday from your amazing and thoughtful reviews. We are thrilled to be named a Leader in the Idea Management category for an amazing 18th consecutive quarter. We also received awards for; Best Usability, Best Relationship, Highest User Adoption as well as Momentum Leader, and we cannot thank you all enough for these amazing honors.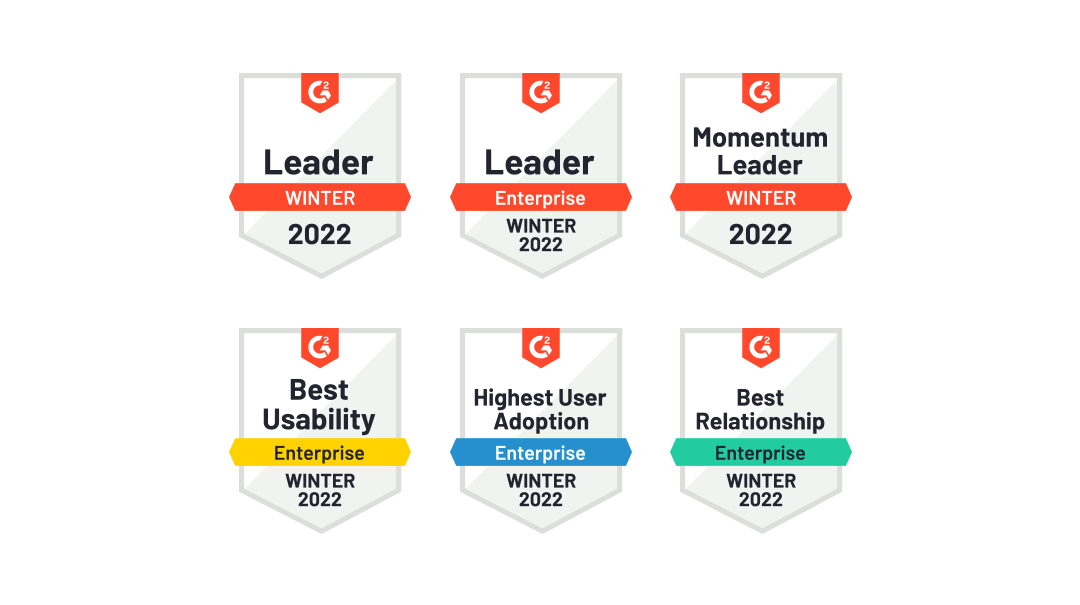 A Glance Ahead
We hope you enjoy this release and put these new abilities to good use.
Despite the challenges and setbacks of the past few years, Idea and Innovation Management are proving to be more important than ever as we emerge from the pandemic and continue to see massive disruption across industries and the way that we work.
We've got lots more coming in 2022 to drive innovation to all levels of your organization. We are committed to continuing to rise to the occasion and meet the opportunities presented by our ever changing world. It's truly an inspiring time to be an innovator, which is why we endeavor to, "Stay Bright."