Reading Time:
2
minutes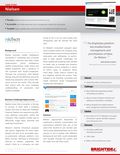 Nielsen is the definitive brand in worldwide market intelligence and consumer media viewership information. As new media technologies developed quickly in the second decade of the new millennium, Nielsen faced the challenge of an increasingly complex innovation program and the inability to effectively manage its ideas. Their innovation program desperately needed some innovation. They sought a better way to track and visualize their innovation program in visible and accessible metrics, and increase employee participation.
Nielsen enlisted the help of Brightidea to develop a dynamic and autonomous, yet still intuitive, platform for idea management. They wanted a system that was so simple that users from any background and skillset could operate it without prior training. In restructuring its innovation process, Nielsen created one dedicated group for the entire company, with three program managers who provided each business unit with a roadmap of optimized innovation guidelines and direction. Brightidea implemented a WebStorm building platform for Nielsen, on which employees and customers are encouraged to submit ideas on specified topics and objectives, or "Challenges." Managers evaluate submissions and drive participation by hosting 10-15 incentive Challenges at any given time. Employees and customers are reassured that their voice is being heard with regular updates to the status of their Challenge.
Over time, Nielsen has achieved widespread adoption of the program, churning out over 500 highly qualified idea submissions per quarter. Product development Challenges have already produced multiple ideas that are in the incubation or proof of concept stages. The "Cycle Time" Challenge was particularly effective at reducing development hours, thereby reducing costs and increasing revenue. In 2013, the "Cycle Time" Challenge saved Nielsen over four million employee hours, across all teams.
Looking forward, Nielsen plans to further restructure their innovation program to focus on critical business areas, including revenue, measurable quality enhancements, productivity and long-term sustainability.
For the complete case study download here: Nielsen case study.