Reading Time:
2
minutes
AXA Chairman and CEO Henri de Castries knows the commitment it takes to innovate: "We will be able to transform innovation into business success only if we put all our energy in it
,"
he stated in a news piece
on the global insurance/asset management company's website. Not all enterprises understand this, but AXA is walking their talk with their Start-in innovation program, powered by Brightidea.
Using Brightidea's collaborative innovation platform AXA collected 815 ideas that transformed into four prototypes headed to market. The idea evaluation process used a hackathon-like format. And that's just part of the story. Let's look more closely at the strategies they used to get there:
Idea Crowdsourcing – Smart enterprises like AXA know innovation doesn't happen in a vacuum. That's why they invited their 160,000 employees to crowdsource ideas with Brightidea. The result? Over 22,000 participants across 45 countries participated in two innovation challenges, generating 815 new ideas.
What's the key to innovation challenge success? Laurent Benichou, Director of Innovation & Foresight offers the following tips:
CEO sponsorship
A clean and sequenced process
Heavy communication
Live stats to foster regional competition
Votes to make it viral
A training program for employee ideators
A user-friendly web platform (Brightidea!)
Innovation Sponsors – Over the course of five months an assortment of business angels, start-up founders and AXA experts coached and mentored the Start-in team through the evaluation process, whittling those 815 ideas down to four for prototyping.
Top-down Commitment to Innovation
– When
Chairman and CEO de Castries says
, "Innovation has never been so important" it's not just a line. Innovation is one of five values in the company's
mission statement
that they "are not willing to compromise on under any circumstances." That's the kind of commitment that translates to everyone in the company – and that's what it takes to get results from your innovation program.
Incentives For Participants – The four prototypes that resulted from the hackathon were presented to AXA's top management, along with the teams that built them, at an award ceremony with special guests from other innovative companies and start-ups.
Following Through – In addition to working to take the four prototypes mentioned above to market, an app aimed at seniors and their families called "Are You OK?" is heading to market this September – one year after the idea was initially posted to the Brightidea innovation platform. By continuing to run challenges, track and implement ideas, AXA is getting great ROI from their innovation program.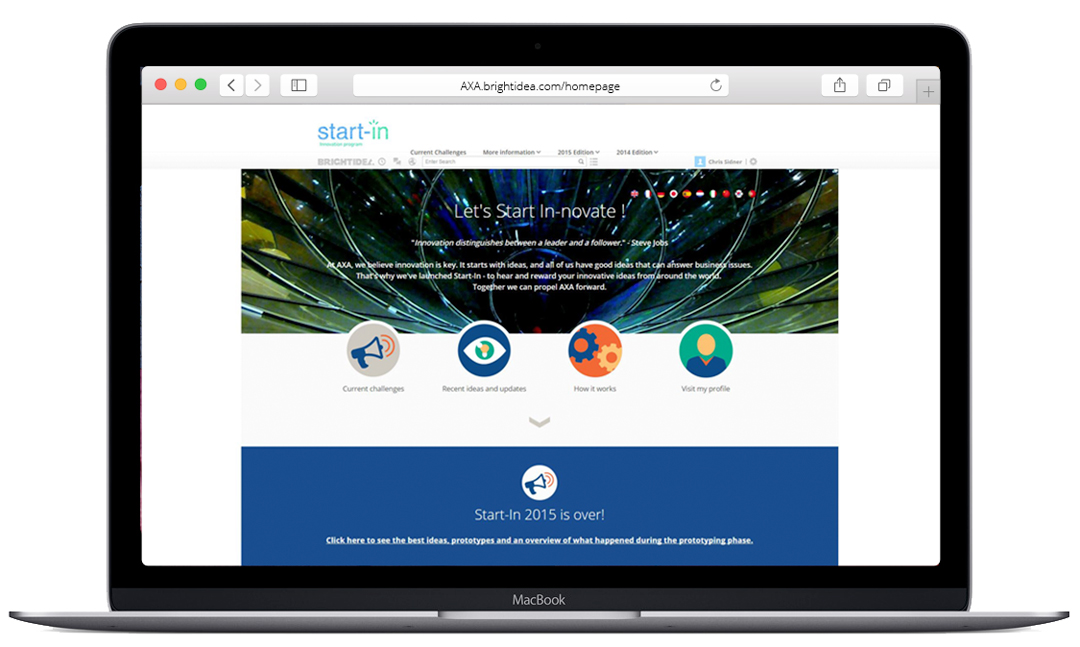 This is what happens when you make innovation a priority, create a clear structure for how innovation will happen (supported by a flexible idea crowdsourcing platform like Brightidea's, of course) and open participation to all the untapped creative minds across your organization.
As AXA believes, innovation is survival and nothing is impossible. What does your company believe?
For more information on how Brightidea can support and expand your innovation efforts,
reach out here
.