Reading Time:
6
minutes
We told you it was coming, and now it's here! Today, on the anniversary of the first day we opened our doors, we're pleased to announce the Fall 2014 release. The culmination of thousands of developer hours and private beta testing, Brightidea's Fall 2014 release is our most feature-rich platform release in company history.
The focus of the Fall 2014 Release is on delivering the world's most flexible innovation platform for people-powered innovation. Recognizing that your corporate innovation needs are as diverse and unique as your people, the Brightidea platform offers the broadest set of capabilities to support a spectrum of innovation programs and processes, including crowdfunding, open innovation, new product development, public challenges, and dedicated innovation teams.
With this massive flexibility, organizations now have a single platform for all their collaborative innovation needs, whether your programs are simple or advanced, new or mature, external or internal, time-boxed or ongoing. Most importantly, the Brightidea platform will adapt as your innovation needs evolve over time.
Here are some of the key highlights of our Fall 2014 Release:
Next Generation Workflow
Years in development, this new configurable workflow is the keystone to the Platform's unprecedented flexibility. With the new workflow, you can configure a complete end-to-end process that aligns with your existing innovation use case, whatever it is.
At first glance you might recognize the design as similar to an agile task board. The concept is similar, but instead of moving tasks from left to right to completion, you are moving ideas through a completely customizable evaluation and selection process.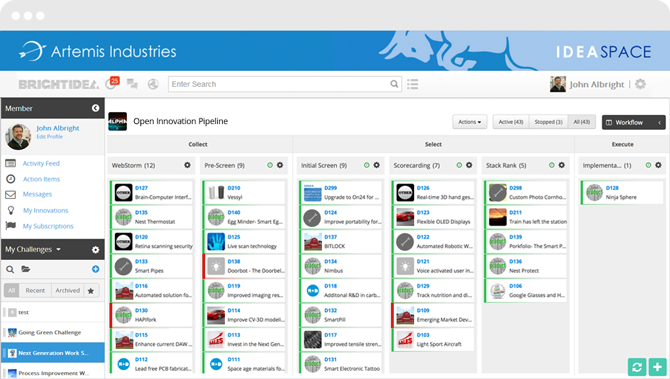 The new workflow gives you the power and flexibility to configure and manage each step and stage in the process. Want a second round of Scorecarding? Add it in. Need to include a Crowdfunding step? Add it with a click. Want to further refine top ideas? Drop in a Development step. It's that easy.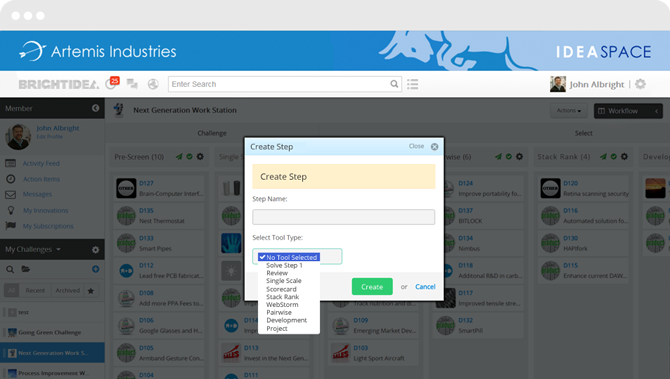 You can drag and drop ideas from step to step, or use our Rules Engine, which brings us to the next feature enhancement.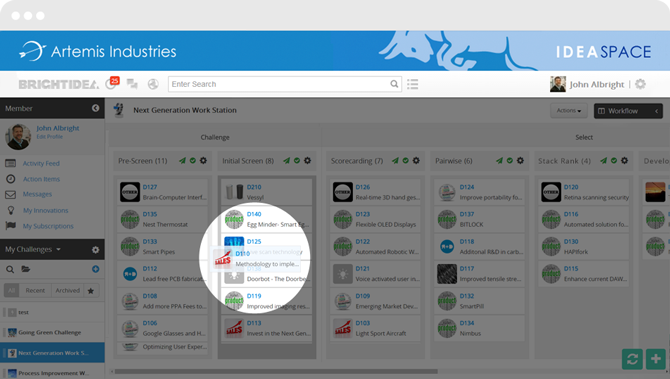 Enhanced Rules Engine
The platform's Rules Engine has been integrated with the new workflow, providing new automation capabilities. You can now automatically advance ideas based on a rule being met. For example, auto-graduate an idea from the Initial Screening step to the Scorecarding step if the screening score average is 6 or greater.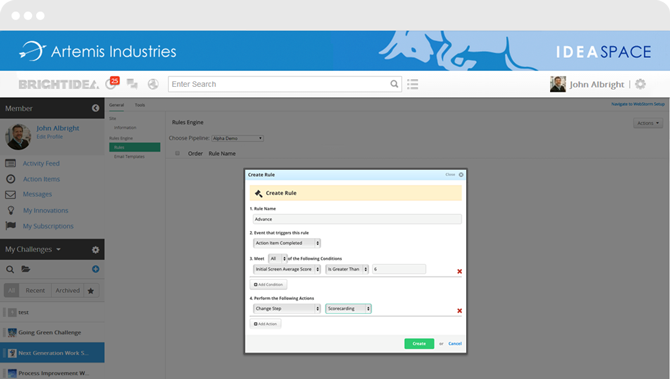 New Crowdfunding Feature
Crowdfunding is a hot topic. These days you can crowdfund anything from movies to restaurants to new business ventures – and, of course, ideas.
With the world's most powerful collaborative innovation platform designed to crowdsource the best ideas, it just made sense for us to develop the next logical step in the process – crowdsource project funding. In fact, experience has shown us that a sure fire way for an innovation project to hit a roadblock is when the project funding becomes a hot potato in the organization.
With our new Crowdfunding feature, you can now source financial investment from across internal business units to launch key projects.
Quickly transform the Brightidea platform from the voting process to the crowdfunding process with the click of a Setup button. Once enabled, a new area in the Post Idea section is added to include the idea funding duration and goal.
Funding stats can be displayed in the View Idea page using the "Funding Stats" widget, as well as in Idea Boards, as shown below.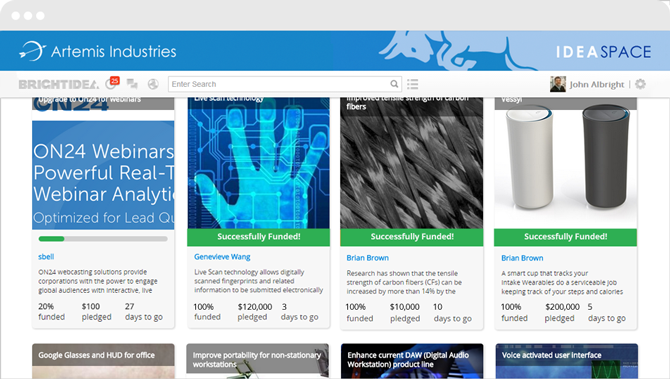 Crowdfunding is an exciting new platform addition to the end-to-end innovation cycle, and we're looking forward to seeing how it helps our customers take the best ideas across the finish line to successful implementations and outcomes.
New Idea Prioritization Tools
Innovation programs often stall because organizations don't have the tools or processes to evaluate, shortlist, and select the best ideas from the many that have been gathered. This is a common occurrence for companies that have tried to build homegrown "innovation portals" with general-purpose tools like SharePoint. By focusing only on the front end, you end up with a big suggestion box full of ideas and no effective way to sort through and select the best ones.
Since companies have varied evaluation processes, we've augmented our existing evaluation tools with several new tools, giving people the broadest choice of methods to shortlist and ultimately select the best opportunities. Here's what's new:
This new prioritization tool is particularly useful when you are working with Subject Matter Experts (SMEs) to help evaluate ideas. With the recognition that a SME's time is valuable and limited, Single Scale allows you to engage them early on in the process to facilitate efficient, scalable idea screening.
The process is straightforward: SMEs who are assigned a Single Scale action item simply rate ideas on a scale of 1 to 7 with the click of a button.
Through a new Manage dashboard, the Challenge Manager can track screening completion, send reminders, re-assign screening tasks, and advance ideas to the next step in the evaluation. As mentioned above, idea advancement can also be fully automated through our Rules Engine.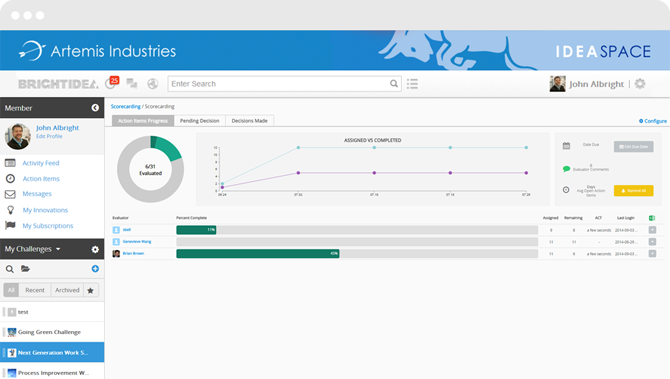 Stack Rank
Stack ranking is a common method for evaluating ideas relative to one another. In essence, you determine the order of a list of ideas from best to worst.
With the new Stack Rank tool, the Challenge Manager sends an action item to a list of people who will place a set of ideas in a stack rank order via a simple drag-and-drop.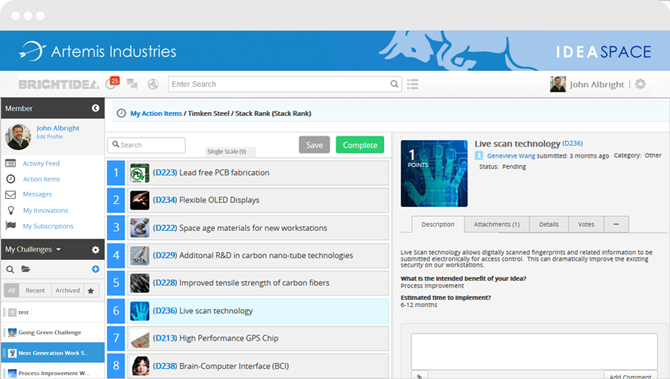 As with the other evaluation tools, a new Manage dashboard shows the ranking progress, each "ranker's" result, the average score for each idea, and provides the ability to move the idea forward to the next step.
Pairwise
Pairwise comparison is typically an alternative to stack ranking. With the Pairwise feature, the evaluator is presented with two promising ideas at a time, and simply selects the one they like best. They are then presented with the next pair of ideas, and so on. Through this process an algorithm ranks the ideas.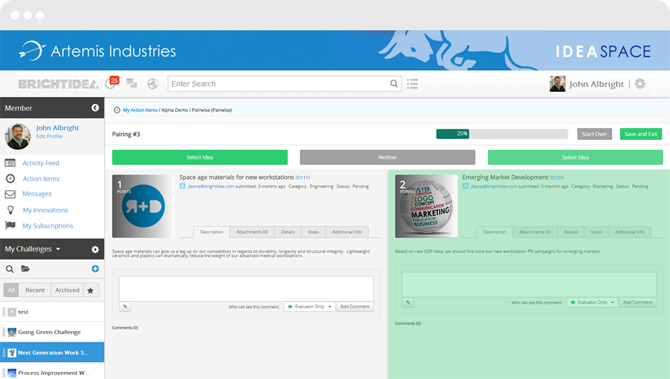 Idea Development
It is very rare that an idea in its original form makes it all the way through to selection. More typically, top ideas go through further iteration and refinement. The new idea development feature allows you to add a Develop step to your workflow. When an idea advances into a Develop step, an action item will automatically go out to that idea submitter requesting more information. The request is presented in the form of questions, which can be short form, long form, drop down, checkbox, or attachment formats.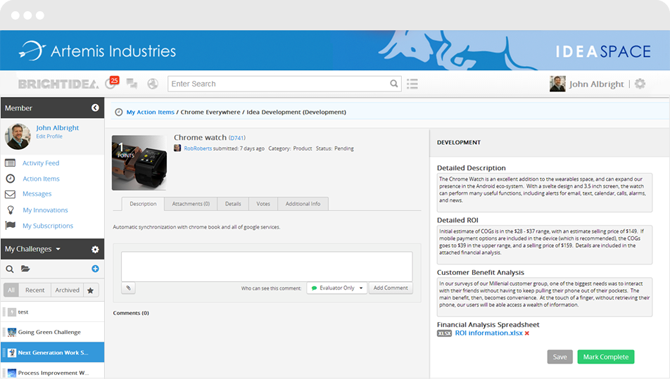 End-to-End Dashboard
With a platform designed to manage the end-to-end innovation process, it's important to have actionable business insight every step of the way. This new E2E Dashboard gives the Innovation Program Manager insight on overall pipeline performance. The configurable Dashboard is designed to display key statistics to judge how well a challenge or other pipeline is performing. You can select which top indicators you want to have displayed.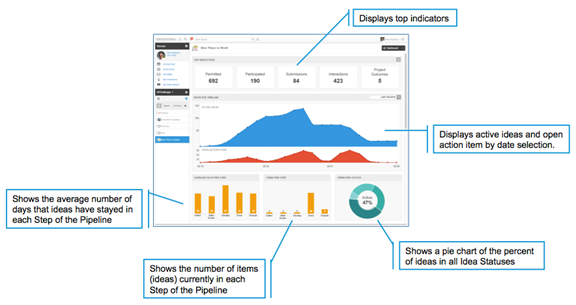 These are just a few of the highlights of the Brightidea Fall 2014 release. For more information about the Brightidea platform view our website at brightidea.com.
For Brightidea customers, don't forget to sign up for the Brightidea What's New Webinar on September 24th, where we'll provide a more detailed overview of the release, including live demos of some of these exciting new capabilities. Email invitations will be going out on September 10.