"Our district has always wanted to be innovative and be at the forefront of educating students. We've always had the leadership buy-in, which is key."

NATHAN O'NEILL
Innovation Program Designer

STUDENTS ENGAGED
300
FACULTY AND STAFF ENGAGED
150
HACKATHON PARTICIPANTS
100
Richland School District Two, which is one of the fastest-growing public school districts in South Carolina, is leading the way in innovation not just for its state, but for the nation. In 2021, it was awarded "District of the Year," by Education Dive for its focus on innovation and school improvement initiatives.
A key component that fuels the district's innovation efforts is the Richland Two Institute of Innovation (R2i2). The institute was established as a learning and innovation center for high school students at all existing five high schools in the Richland Two District in 2016. Richland Two also supports a faculty and staff incubator program, housed inside R2i2 and called R2 Innovates, which is now in its tenth year.
With almost 28,000 students and more than 40 schools district-wide, Richland Two realized early on that they needed a "line of sight" system that would allow them to collect and store ideas across the entire district. They also wanted the ability to showcase what was happening in innovation and what the benefits were of the innovation projects the district was investing in.
Cloud-Based Collaboration
After evaluating the technology available to help manage the innovation process, Tom Cranmer, the District's Chief Technology and Innovation Officer, selected Brightidea based on the innovation platform's strong capabilities for collecting, storing, and showcasing ideas.
"I work with several student teams, whether it's short-term or long-term, helping them with innovation projects like making their schools a better place or community service projects. Every week is different, and I just try to make things come to life."
Since stepping into his new role as Innovation Program Designer a few years ago, O'Neill has continued to use the Brightidea innovation platform to help him reach his goal of bringing more students and faculty into the world of innovation. Learning as he goes, O'Neill has been able to use the Solve and Optimize apps and utilize some of the ideas sourced to create incubator teams as part of the R2 Innovates incubator program.
"We want to have people collaborating more, so some of our incubator teams work on things like how to improve deep collaboration," says O'Neill. "We also focus on building passion projects, where students get a chance to really have experiences and get the time to interact with different people in the community." During the pandemic, when it was hard to run the incubator program and other student innovation programs, O'Neill was still able to use the platform to collect ideas and solve challenges the district faced. For example, at the start of the pandemic, he collected ideas on how to better organize meetings virtually to be more effective.
The Student Hackathon
One particular success story this year was a day-long student Hackathon in which about 100 students across all five high schools participated. O'Neill used Brightidea throughout the process to not only store and collect ideas, but to improve engagement and optimize the process.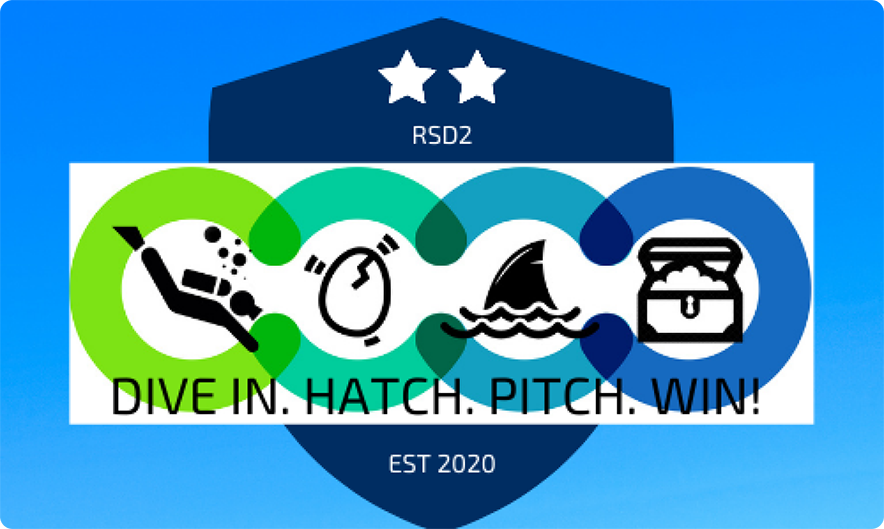 Prior to the event, over 300 students and 150 faculty and staff engaged with the Brightidea platform and conversed about challenges around socio-emotional health, culture and climate, technology access, and school spirit. Students pitched ideas and received feedback on the platform for solutions like allowing pets in school, creating apps for mental health issues, cleaning up litter, changing tardy policies, and composting to reduce waste.
Some teachers would give an assignment for students to go onto the Brightidea platform and comment on a couple of ideas that were posted by other students. "Things like that helped get the buzz going," says O'Neill.
He also spent a good deal of time trying to get faculty, such as at the district offices, and other staff and teachers to log into the platform and give the students their thoughts and insights on the ideas they'd submitted. "That was really helpful as it got more conversation going beforehand," says O'Neill.
"The Hackathon was able to really show us how we could use the platform in a really cool way to bring the whole event to life and make it more seamless and classier."
During the event itself, which was hosted by R2i2, O'Neill was able to use the Brightidea platform during the pitching and judging process. Panelists had their computers in front of them and could vote instantaneously after each pitch. Then, once students were released for a pizza break, O'Neill was able to pull up the results and show panelists how the votes came out. In addition, he was able to upload all the student presentations of their idea pitches to the platform, which allows for a line of sight for people who want to come in later and see what was pitched, what they talked about, or who was on which team.
In the future, O'Neill plans to use the platform to expand the reach of R2 Innovates to more middle school and elementary students as well as having parents and the broader community participate. He envisions being able to host community co-design workshops where he can teach nonprofits and community organizations about design thinking and lead them through the innovation process.
"I'd like to have the space we occupy in the district office be like a hub for the community," says O'Neill. "And I'd like to try to find more positive ways to engage parents."
About Richland School District Two
In partnership with our community, we develop global citizens of tomorrow — citizens who are prepared to lead and excel in their chosen pathways.
About Brightidea
At Brightidea, we're passionate about innovation. We believe it's the lifeblood of progress, advancing the human condition and improving the world around us. To that end, we've set out to accelerate the success of innovation by empowering those behind it with advanced software to facilitate and streamline the ideation process—and the collaboration it thrives on.