"The flexibility of Brightidea has been instrumental in helping us customize and evolve our program. We could not have achieved our success with an inflexible vanilla product."

AHI GVIRTSMAN
Head of Innovation

INNOVATION INITIATIVES
113
PARTICIPANTS
31,000
FINANCIAL OUTCOMES
$2.7M
The Challenge
HP Software is the Enterprise software business unit of Hewlett Packard Enterprise (HPE), providing software and services aimed at managing, securing and monitoring data centers and big data technology. It is the world's sixth-largest software vendor with 50,000 customers and 13,000 employees.
Head of Innovation, Ahi Gvirtsman, founded and currently runs HP Software's InnoStream innovation program. A key component of the program is leveraging Brightidea's idea crowdsourcing platform (branded internally as "The Garage"). InnoStream's focus is to generate new revenue streams for HP Software through innovative projects by tapping the creative capacity of HP's diverse employee base.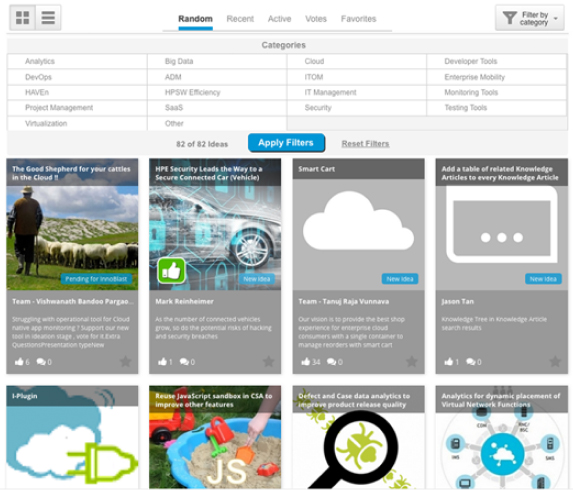 Prior to Brightidea, there was no central crowdsourcing platform for employees to submit ideas. Although 'The Garage' was in place when Gvirtsman came into his new role, he saw a broader potential for the crowdsourcing solution, including an opportunity to better market and promote it to increase participation; but putting these plans into action wasn't easy. The team initially faced some challenges when implementing the platform including:
1. Employees needed to use a separate set of credentials to log in, which caused a loss of participation.
2. There was no standard method for how an employee was to explain their idea.
3. They had no specific KPIs to measure how 'The Garage' was performing or how to improve it.
"The flexibility of Brightidea has been instrumental to helping us customize and evolve our program. We could never have achieved our success with an inflexible vanilla product."
The Solution
Gvirtsman's innovation team decided to run quarterly cycles for idea submission, commenting and voting. To increase participation, the team customized the Brightidea landing page and implemented single sign-on (SSO).
In addition, Gvirtsman's team began to measure statistics very diligently, defining a set of KPIs around the number of ideas submitted, the number of votes and comments, and the participation rate. Every month the team reviews the Brightidea statistics and makes important decisions based on this data.
The Brightidea innovation platform has been extremely valuable as a central, global repository for capturing and collaborating on employee ideas. Gvirtsman's team has been able to standardize how ideas are formulated and evaluated and has created a streamlined, intuitive and engaging user experience that is easily customized for various business needs worldwide.
The Results
Over the past 5 years, dozens of ideas have either moved into production, are in the process of moving to production, or have progressed to seed stage (funded). 113 total innovation initiatives have been run in The Garage, engaging over 31,000 participants across the corporation. Implemented projects include: Service Manager Smart Analytics, HP Threat Central, and Predictive Analytics Distributed R.
After many years of using Brightidea, it continues to be a very effective and powerful innovation management tool for HP Software to stay ahead of the industry.
About HPE
HPE is the global edge-to-cloud company built to transform your business. How? By helping you connect, protect, analyze, and act on all your data and applications wherever they live, from edge to cloud, so you can turn insights into outcomes at the speed required to thrive in today's complex world.
About Brightidea
At Brightidea, we're passionate about innovation. We believe it's the lifeblood of progress, advancing the human condition and improving the world around us. To that end, we've set out to accelerate the success of innovation by empowering those behind it with advanced software to facilitate and streamline the ideation process—and the collaboration it thrives on.