How Cabot Is Managing Their Collaborative Innovation Process



Cabot Corporation is a $3.6 Billion leading global specialty chemicals and performance materials company headquartered in Boston, Massachusetts, USA that serves key industries including transportation, infrastructure, environment and consumer.
As a company with a rich history of technology development, Cabot was challenged with traditional brainstorming techniques, finding them ineffective because the conversation stopped after the meeting or conference call ended. With 4,600 employees, being constrained only to people in the room, in that location, was extremely limiting from an innovation perspective.
John Jaddou, Cabot's Director of New Business Development/Scouting & Innovation, was brought into the company to build a new innovation program. John and his team's charter was to build a foundation to enhance Cabot's innovation capacity, transform the organization's culture to embrace new thinking, identify new market opportunities and solve complex problems.
After thoroughly evaluating the market, Jaddou's team selected Brightidea, based on the platform's intuitiveness and flexibility. Cabot's goal was to break down barriers of time and space to encourage and broaden global audience participation.
"We don't know what we know," says Jaddou. "Constructing a virtual space where people can share their knowledge and collaborate wherever they are and anytime they want, coupled with the right physical environment that fosters rich conversations is really powerful."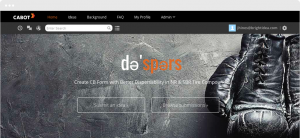 Jaddou's team runs time-boxed innovation initiatives to crowdsource ideas across three areas of the business: Technical, Commercial and Marketing. An innovation initiative launch is a combined physical/virtual event with a physical kickoff to get the company engaged, including rewards for contributions. The Virtual launch uses Cabot's intranet and Brightidea's broad set of engagement tools to promote it, including subscriptions, emails, and notifications.
This is essential according to Jaddou, because, "you need a multi-channel strategy to keep Challenges alive and active." For Cabot, the hybrid physical and virtual approach is critical for discovering breakthrough ideas and solving complex problems.
Jaddou has seen a multitude of positive results since implementing Brightidea's software.
He reports, "Two ideas from one specific campaign developed using the Brightidea platform are expected to generate tens of millions of dollars for the company. In addition, the collaborative knowledge sharing has been a key benefit, as well as the ability to centrally document this knowledge. The team has also gleaned a lot of insight working with Brightidea's Services experts and by sharing experiences with other Brightidea customers."