Reading Time:
4
minutes
As an Innovation Program Manager (IPM), you know the importance of employee engagement as it relates to the success of your sponsor Challenges. This is especially critical during the first few weeks of a Challenge where you need to pinpoint potential problem areas in order to course correct. It's also critical throughout the duration of the Challenge to ensure engagement level doesn't taper off over time.
But how do you identify who is engaging and how they're engaging? How do you determine the relative health of your Challenge engagement level? What metrics do you have to determine whether engagement is great, just OK, or cause for alarm?
These are the questions that led us to develop the new Challenge Engagement Dashboard. This new dashboard gives IPMs crucial, detailed insights on how many people in your audience have visited and participated in each specific Challenge.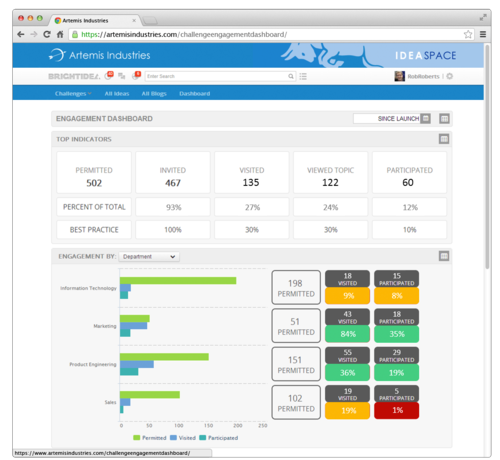 At the top of the Engagement Dashboard is a panel that displays five important data points on engagement: Permitted, Invited, Visited, Viewed Topic, and Participated.

Permitted is the number of people who have been given access to the Challenge based on group restrictions
Invited is the number of people who were invited to the Challenge using registration invitations
Visited is the number of people who visited within a specified time period
Viewed Topic is the number of people who viewed the topic page within a specified time period
Participated is the number of people who voted, commented or submitted ideas within a specified time period
Benchmarking Against Best Practices
In addition to the raw numbers and percentages, the new dashboard provides a very powerful additional data point: It allows you to compare your numbers with best practices that Brightidea has developed from over a dozen years of industry experience. This gives IPMs a solid benchmark for comparison and ongoing improvement. You can configure this best practice data to be displayed or hidden in the dashboard.
Target Date Range
While most people will want to monitor engagement since the launch of the Challenge, you may also want to zero in on engagement for a specific time period. No problem. The Challenge Engagement Dashboard lets you choose from various periods, including custom  date ranges.

Engagement By Profile Field
You may recall that one of the new capabilities recently released by Brightidea is the new configurable user profile fields, which gives administrators the flexibility to control what user data can be captured, displayed, and reported upon.
One of the most powerful features of the Challenge Engagement Dashboard is the ability for you to break down the engagement information by these profile fields, giving you the power to identify how engaged different people and parts of the company are with your Challenge.
For example, you might want to look at engagement by department. Or you might want to look through a geography lens to see relative engagement levels by country or region. The other two examples in the screenshot below show filtering by Job Title and Business Unit. However, the dashboard gives you the flexibility to view engagement by whatever user profile fields you choose.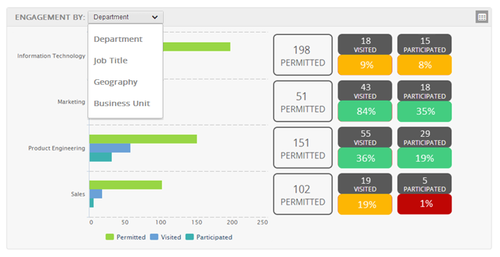 When the data is displayed, it is color-coded green, yellow, and red to indicate your engagement performance against the best practices data. At a glance you can see areas of engagement needing attention. Green means at best practice or better; Yellow indicates below best practice to 30% below best practice; Red means 30% below best practice or lower. 
Data Exports
All of the data in the Engagement Dashboard can be easily exported to Excel for further analysis. You can export the summary level data as well as detailed data on engagement by top indicators and profile fields. This can be particularly useful in helping IPMs pinpoint areas that need engagement focus and action.

Engagement by Top Indicators Export Example:

More to Come

This is just the first iteration of the Challenge Engagement Dashboard. It will evolve to incorporate not just valuable data but also specific actions that can be taken based on the data. For those customers who would like access to this dashboard, please contact your Account Manager.
The Challenge Engagement Dashboard is just one of a series of new dashboards Brightidea has begun to roll out to help IPMs drive more successful innovation programs across the business. More dashboards are to follow, so keep visiting our blog for regular updates!