Reading Time:
7
minutes
Putting it together
But we'd understand if you told us, "These days it feels more like I'm just keeping it together with everything that's happening in the world," and we would probably have to agree. 😉
Despite this, our Product Team has continued to work hard on enhancements and features that focus on making our user experience more complete. Every product can always be polished and improved with invaluable user feedback, and our ongoing mission is to incorporate those pieces for a more complete and delightful experience for all. Some of the things we have been working on have already been deployed since our last update. Still, everything covered in this release is available to use today.
So let's take a look at the pieces that have been added to the Brightidea puzzle.
View Idea 3.0 (Beta)
Since the release of View Idea 3.0 in Beta in March, we have received a lot of early adopter feedback, and we have packed a lot of new goodies into this release. We will continue to add more features and capabilities to View Idea 3.0 in the future, so please continue to send us your feedback via Customer IdeaSpace.
Enhancements to View Idea 3.0: View Idea 3.0 in action items and manage pages, inline cover image edit, Unsplash integration to choose a cover image, chips voting, subscription management, quick links, team widget, category subscription, report idea/comment abuse, and dependent questions.
Check out our knowledge base article to learn more about all the new View Idea 3.0 enhancements.
Whiteboard updates
We like to think of Whiteboard as infinite. Infinite possibilities for ideation and infinite possibilities for us to add more pieces of functionality to delight our customers. We have been releasing a bunch of improvements and new features ongoing since our last release, but in case you missed any, we are going to recap everything for you now.
New Features
Alignment of objects:

Added the ability to see align guidelines when moving objects within the board, and the ability to multi-select objects and align them (left, right, center justified, etc.)

Text updates:

Added underline, strikethrough, and link text to formatting. Added Header and Subheader text hierarchy. Added numbered and bulleted lists.

Zoom to fit all contents:

Hotkey command to zoom to fit all contents of a Whiteboard.

Batch undo:

Hotkey command to batch undo edits when many edits are done in a batch.

Arrows:

Added arrows to objects.
A few more enhancements of features you already love
Send ideas grouped to Whiteboard:

Organize ideas by step, status, category and lay them out in horizontal/vertical swimlanes and clustering when sending ideas from pipelines to Whiteboards.

Refreshed Whiteboard templates design:

Overhauled the default design of templates to incorporate feedback from clients and improve the template experience out of the box.
Learn more about the new Brightidea Whiteboard features from our helpful Knowledge Base Article.
A few more pieces of the puzzle…
Community-level dashboards have been added to allow admins to see the accumulation of all engagement dashboards for the initiatives tied to a community. We increased the default file size limit to 500 MB (was 100MB). Scheduler ability has been added to the rules engine to pull in scheduler events. Updated the available options for the action items Progress page for steps using Category Assignment to make the admin options consistent across different assignment types. The Rich Text/HTML widget has been updated to a new editor for improved functionality and usability, including a new widget preview function. Finally, when tagging users in comments not already included in an affiliate, the user will be prompted to invite the user that was tagged.
Coming into view
Putting things together can be an extremely rewarding experience that requires vision, collaboration, execution, and patience. When first getting started, vision is key to knowing what the final state will resemble, but vision without execution doesn't mean much. Patience is required to make sure things don't get rushed, and quality is not compromised for the sake of speed. As the project takes shape, things start to come into view, and the original vision takes shape in reality.
We continue to put it together with the help and inspiration from our amazing customers, and as we round into fall, we hope that the vision of a more complete idea and innovation management solution becomes apparent.
Until next time,
Stay Bright
One more thing… Need to cut costs quickly? Check out the Slash App!
Due to recent economic developments, we brought back our Slash app from the pandemic. Slash was developed to quickly crowdsource cost savings ideas and help companies tighten their belt when they need to cut back and extend the runway. Slash has been added to Programs for anyone looking to pitch in and help conserve resources and maybe even save a few jobs.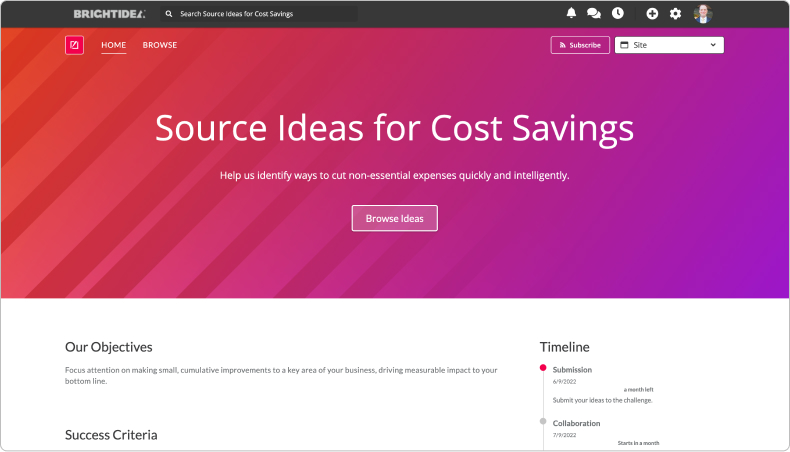 Check out the Slash app page to learn more about how Slash can help you crowdsource ideas for cost savings.