Reading Time:
8
minutes
Keep Calm and Innovate
It's pretty expected to feel a bit weary right now when so much is going on around the world. Just when it seems as if maybe we are ready to get back to normal, another crisis crops up that gives us pause. With so many events dominating our attention right now, software releases may not be top of mind, and we get that.
We decided to focus this release on some updates to our existing features that we hope will bring a bit of brightness to your day.
Brightidea ↔ Slack Integration 4.0
Our first upgrade in this release started from customer requests to enhance our recently released Slack app.
Add any Slack message to an idea:

Users can now add a Slack message to an existing idea as a comment! This avoids duplicate submissions or lost information.

Submit on behalf of another user:

Users can submit ideas on behalf of others, namely the message author. This helps preserve credit/ownership while ensuring ideas are captured.

Richer posts to Slack:

Slack now unfurls more graphic content from Brightidea.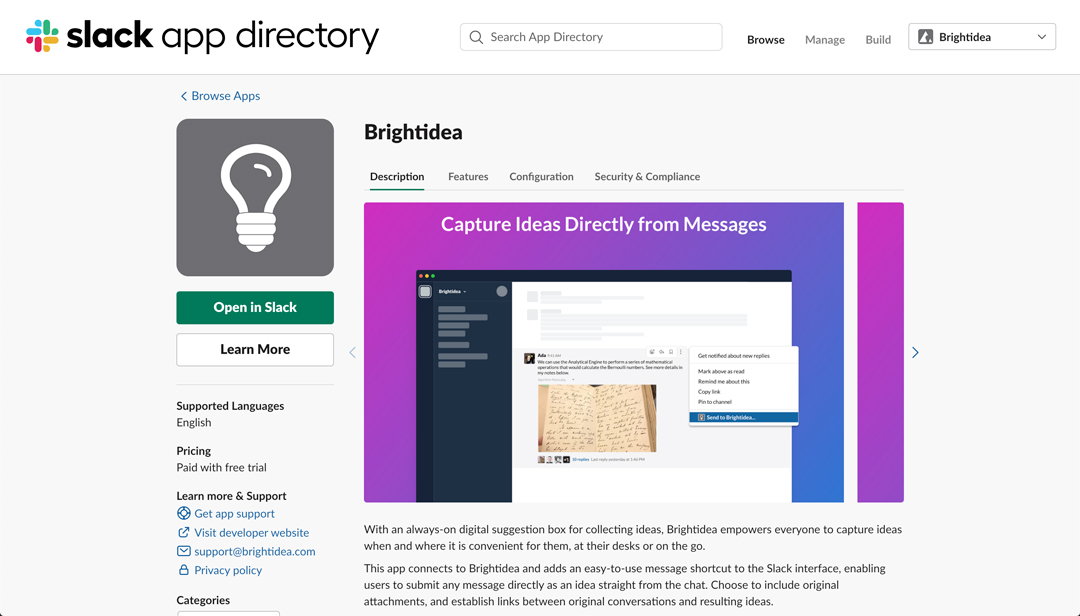 Ready to start using our Slack app? You can access it in the Slack App directory here.
Read more about our Brightidea <> Slack app in our Knowledge Base Article.
Brightidea Whiteboard
We continue to update, enhance, and add new features to Brightidea Whiteboard based on feedback from customers. We hope the new features and updates in this release will make your next whiteboard session glow.
Send Ideas to Whiteboard from Pipeline View:

Now you can send up to 50 ideas at a time from your Pipeline View to an existing or new Whiteboard of your choice.

Auto Link URLs:

URLs will be automatically parsed and linked in text & sticky objects.

Copy-paste updates:

Now you can copy and paste between whiteboards.

Organize stickies:

Automatically layout a selection of stickies in a regularly spaced grid.

Follow users:

Now you can quickly locate and follow each other in the whiteboard by clicking the user profile at the top of the whiteboard.
Read more about our Whiteboard updates in this Knowledge Base Article.
View Idea 3.0 (Beta)
We are releasing View Idea 3.0 as a beta feature that admins can enable via the initiative level beta tab. We encourage you to test the new View Idea interface and provide feedback via Customer IdeaSpace. Your feedback will help us continue to enhance and polish this feature for full release in the future.
View Idea 3.0 features available (Beta):​​
Modal capability for more efficient review
In line action items
Separate tab for development fields​​
Customizable templates (small, medium, large headers)​
Widget editable​
When enabled, it will be shown on:
Dedicated idea page​
Top Ideas (modal)​​
Idea Boards (modal)
Steps View (modal)​​
List View (modal)​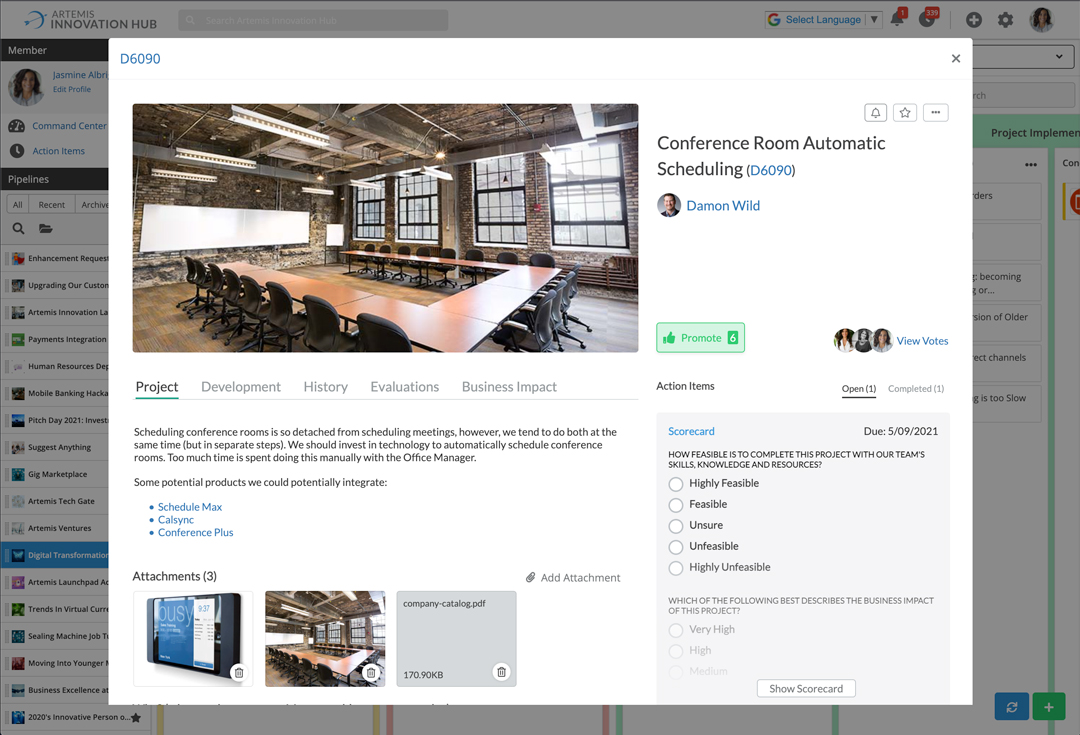 If you would like to turn on this feature in beta, we encourage you to reach out to your CSM first so that they can assist.
Read more about View Idea 3.0 in this Knowledge Base Article.
A few more things…
Top Ideas will now auto refresh to surface the latest insights and uncover the best ideas. We have extended our Newsletter feature to the initiative level. We have updated the Gig App to include application reports for application history and added a "My Jobs" filter to the Idea Boards view.
Keep Calm and Innovate… because we must
Yes, there is a lot going on in the world that can get us down, but there are also things happening that can give us hope for tomorrow. We are rounding the corner on the pandemic and getting back to in-person activities. There are initiatives underway across the business world to drive innovation forward and transform our world for the better. Churchill said in a dark time, "If you're going through hell… keep going!"
Innovation has done more over the course of human history to reduce suffering and increase prosperity than any other human activity combined, and it will continue to do so. We hope that this release can give you a few features, enhancements, and upgrades that will improve your innovation efforts and allow you to be bright about the future.
Find the reasons to stay bright and stay the course because, "Innovation is too important to be left to chance."