Reading Time:
5
minutes
Few places are more synonymous with innovation than the Massachusetts Institute of Technology (MIT).  For over 150 years, MIT has served as one of the world's leading centers for academia, research, and science, with notable alumni serving as global business, political, and scientific leaders.  The institution has always been driven by innovation and led by forward thinkers ready to take on the challenges of today and of the future.
In 2013, the university created the MIT Innovation Initiative to enhance its ability to deliver innovation and increase its impact.  Fortunately, I had the privilege to sit down and speak with the Initiative's Executive Director, Gene Keselman. Following are some highlights of our discussion.
What has driven your interest in innovation in general, and specifically in heading up the MIT Innovation Initiative? 
I have a pretty unique background which led me here to the Innovation Initiative.  My career started in the military where I had the opportunity to work at some very inspiring operations centers.  It was a fantastic learning experience, but my entrepreneurial spirit eventually led me to develop my own innovation foundation.
Although the foundation supported the Department of Defense and other military organizations, I developed a different perspective on innovation as a civilian. One of the key differences was that a lot more failure could be tolerated outside the military.  Following that experience, I landed at the MIT Sloan School of Management to pursue my MBA, which really opened my eyes to endless possibilities of applying innovation to academia and business.
When I first learned about the initiative, I was intrigued by its potential impact and excited to pursue the opportunity to serve as executive director. I believe I was ultimately selected due to the breadth of my experience and different perspectives I offered.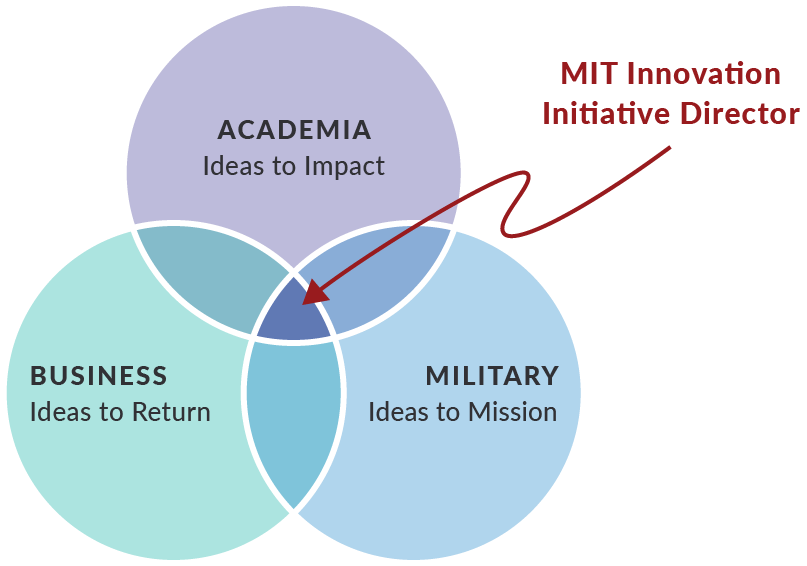 It's been my experience that different sectors all view innovation differently:
Education — ideas to impact
Business — ideas to return
Military — ideas to mission
If you view this as a Venn diagram, my experience put me right in the middle of those three, which uniquely qualified me for this position.
What do you see as the mission of the Initiative?
The Initiative has a number of goals. But I'd say the grand mission is simply to be the vehicle that rises all ships of Innovation at MIT. This includes:
Creating new opportunities
Enabling ideas to reach impact more efficiently
Supporting programs of entrepreneurship that already work
Serving as the connective tissue of Innovation at MIT
What types of activities does the Initiative run or support?
The Initiative runs the full gamut of innovation activities.  We manage hackathons, which we view simply as a means for teaming up people, ideating, experimenting, and potentially launching something new. We support all sorts of different activities around that core process, typically involving the formation of cross-functional teams that may not have otherwise had the opportunity to collaborate.  We also try to facilitate generating new ideas and provide resources to better enable people to experiment and achieve impact.
The Initiative is also responsible for creating the first-ever Innovation minor at MIT, which is a cross-functional degree with elements of both engineering and business.  To date, MIT has graduated 17 innovation minors
In addition, the Initiative facilitates the MIT Hong Kong Innovation Node, the first-ever dedicated MIT Innovation space outside of our home in Cambridge.  The Innovation Node allows MIT students, faculty, and researchers to work on various entrepreneurial and research projects alongside Hong Kong-based students and faculty, MIT alumni, entrepreneurs, and businesses.
The Node itself is a collaborative space that aims to connect the MIT community with unique resources, including advanced manufacturing capabilities and other opportunities in Hong Kong. The Initiative also works to develop the area of 'innovation science,' an emerging field that can be thought of as applying the scientific method to the practice of innovation.
Those are just a few examples of what we offer as we're constantly pursuing new innovation and venture activities.
What types of outcomes do these activities generate and how do you measure the impact?
One strategic element that we've been focused on here at the Innovation Initiative is equality and gender issues.  Our goal to make MIT the most inclusive place for innovation and entrepreneurship activities. We're now actively analyzing gender and minority participation across all our programs. If one specific program is not performing up to par, we address it.
We feel we need to truly understand where inequality exists, how to fix it in the future, and develop best practices to ensure the world becomes a more inclusive place.
What types of challenges is the MIT community most interested in solving?
Aside from equality, we focus on "tough tech", which refers to breakthrough innovations that typically come out of engineering, research, and scientific discovery. This type of innovation is not focused on simply leveraging technology fads, but rather tackling some of the world's biggest challenges such as climate change, eradication of disease, clean water, etc.  Tough Tech requires high capital, long lead time, and an ability to tolerate risk. But the potential impact could significantly change the world for the better.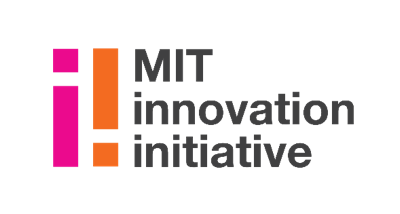 We have an enormous innovation ecosystem here in the Boston area, and MIT is at the epicenter. Many local organizations focused on tough tech were developed right here in MIT's labs. We're committed to launching and continuing to support organizations that are experimenting with robotics, medical, and pharma solutions, and can make a major impact on the world through tough tech. Boston is becoming the capital of tough tech and many of our students are leading the way.
What skills do you think are most important for future innovation leaders?
One thing we focus on is ensuring that innovation and entrepreneurial education is available to everyone that wants or needs it. We try to teach everyone at MIT that there are many different ways of thinking. You can think like an entrepreneur. You can think like an innovator, a researcher, a scientist, etc. The value is in understanding that there are multiple ways to look at problems and ideas, and you have the power to choose among them. Furthermore, the way you choose today may be different than the way you choose in the future.
What type of corporate partnerships does the MIT Innovation Initiative participate in?
We support the corporate community in a variety of ways such as facilitating hackathons or simply talking to organizations about innovation. However, we know there is a gap we need to fill with greater participation among corporate partners today. To address this, we're in the process of formulating a new corporate partner membership program. We're still developing what the program will look like, but we know it will include practice, science, and educational aspects as well as funding innovation research.
Ultimately, we want to deliver value to our corporate partners—but we maintain our focus on the students and education, and on delivering value back to the University.
Innovation has the power to make the word a better place.  With institutions like MIT teaching management of the innovation process and training its students to think more entrepreneurially and innovate more effectively, our shared future sure looks bright.  For generations, MIT has been "thinking bigger" about how to take on the world's biggest challenges and with the Innovation Institute leading the way, there is no doubt that it will continue to do so in a way that benefits us all.
---
Ira Fertig helps corporate innovation leaders to achieve their strategic objectives by facilitating innovation activities across the enterprise. He occasionally contributes original content to the innovation space.