Reading Time:
2
minutes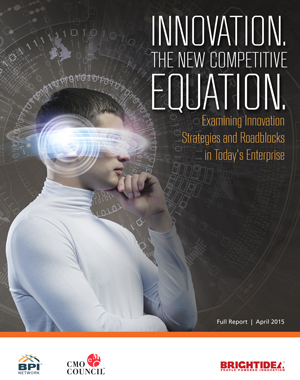 Brightidea partnered with BPI in creating a highly informative innovation study, Innovation – The New Competitive Equation, which examines innovation strategies and roadblocks in today's society. The study is full of statistical analysis, case studies, and best practices from top innovation executives. Brightidea's powerful customers Dell, Nielson, and Cisco were highlighted in the study as well, with strong statistics proving their thriving innovation programs using Brightidea.
How could you better encourage innovation in your organization? This was one question in the study. Companies ponder this every day when attempting to ramp up a successful program. The results in the study reflected that companies are at varied stages of their innovation journey. In fact, 44% answered that they need to create a formalized process for evaluating and rewarding innovation up and down the organization. And 40% recommended to fast-track a structured program of "intrapreneurship" for top innovation talents on the team.
Crowdsourcing within innovation programs has become a popular tactic, expanding creativity outside of just one designated team of thinkers. In the study, to determine if this tactic is widely effective, customers were asked how do you rate the effectiveness of crowd-sourced innovation programs? See the results below. The use of innovation platforms is growing yet the ability to measure outcomes and success is a challenge.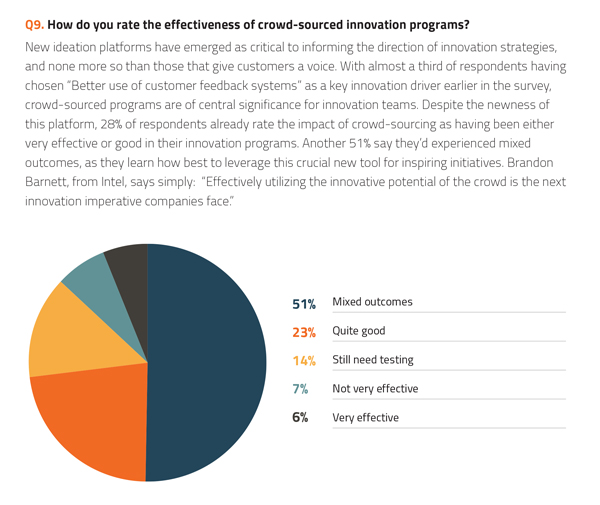 Take a look at this study Innovation – The New Competitive Equation and review the current results for yourself, comparing them to your own innovative efforts. Brightidea provides the world's leading innovation program software, please contact us if you'd like to accelerate your own program!
Please feel free to leave comments below.