Reading Time:
6
minutes
Today we're thrilled to announce a bold and forward-looking architecture to our product line, now called the Brightidea Innovation Cloud®. With this comprehensive portfolio, the industry's first multi-product cloud platform, there's now a dedicated product to manage initiatives at every stage of the corporate innovation journey—suited to any organization's size, scope, or strategy.
Programs outfits smaller teams with enterprise-grade capabilities to jumpstart innovation
Labs tackles the riskiest innovations with discipline and transparency
Ecosystem enables open innovation leaders to engage outside their organizations (new for 2018)
Transformation empowers business leaders to drive company-wide transformation (new for 2018)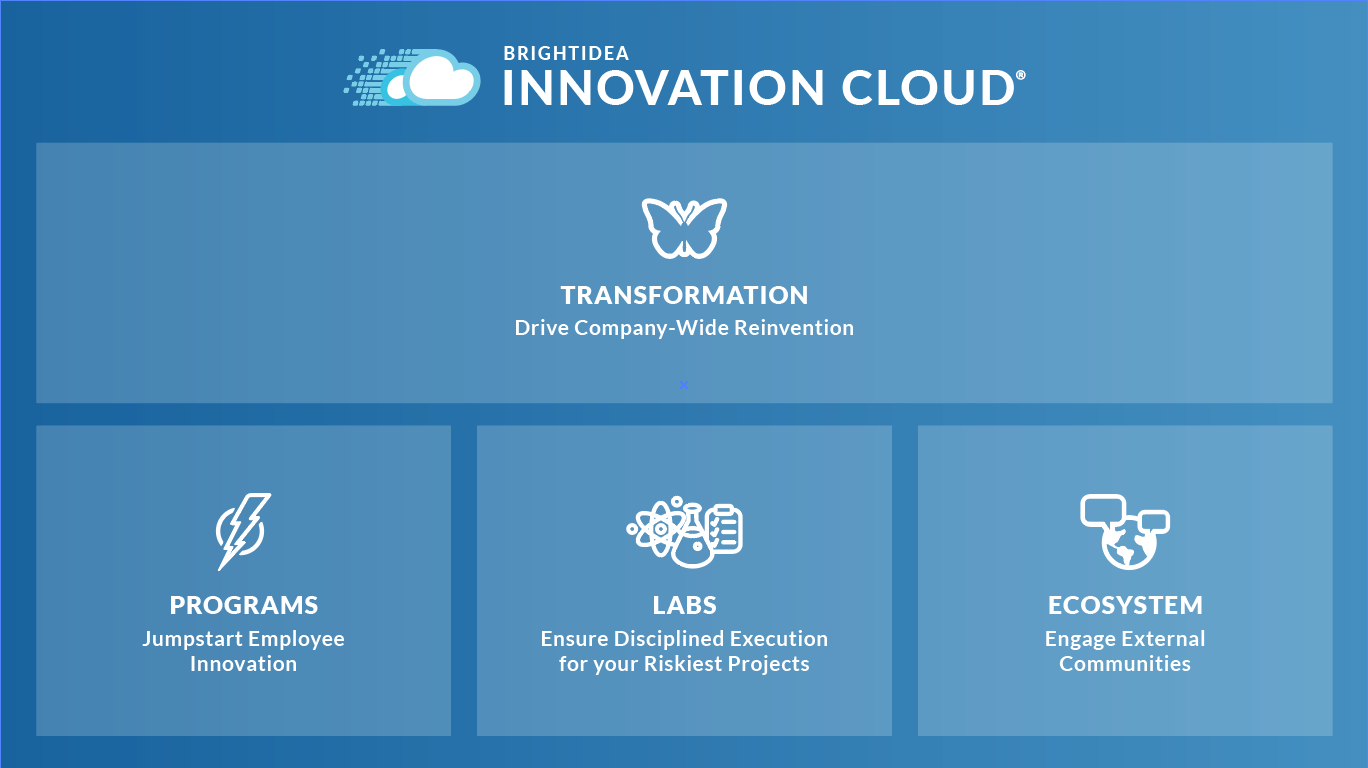 We're thrilled to introduce this ground-breaking approach to innovation management and expect both our current and future customers to derive a great deal of benefit. Read on to learn more about these robust and versatile products in the new Brightidea Innovation Cloud™.
Programs
Jumpstart Innovation and Deliver Outcomes on Any Budget
Programs is now the easiest and most straightforward product of the Brightidea Innovation Cloud, giving even the smallest teams enterprise-grade capabilities. It enables innovation managers to quickly build a culture of innovation through programs that engage employees and tap into their expertise to solve problems or make lasting improvements.
Because smaller innovation teams have limited resources, it's critical for them to do more with less. And so without adding costs, the product's employee engagement capabilities scale to any company size. What's more, it provides tools and dashboards to measure and depict the ROI of innovation activities enabling managers to justify their budgets and protect their programs.
Programs makes the innovation process:
Quick: It works right out of the box so you can jumpstart your program immediately, with no customization required.
Easy: The intuitive interface includes visual pipeline management, letting you see each idea in the process and manage it with a simple drag-and-drop.
Budget-friendly: Priced for programs on a modest budget, you can establish processes to effectively drive innovation outcomes.
Automated: Notifications, rules engines, and communication tools make engaging a large workforce simple.
Repeatable: Apps streamline the setup, running, and duplication of innovation challenges, events, and discussions.
Through a suite of included innovation apps, Programs empowers teams with the ability to  engage employees in such activities as company-wide discussions, technical problem solving, improvements to key business areas, and events like hackathons and pitch competitions. Collectively, they help to build a culture of innovation at any scale.
Labs
Tackle the Riskiest Innovations With Discipline and Transparency
For riskier and more ambitious innovation goals with the highest potential, more and more companies are running funded innovation labs. Unlike programs run as a shared service within their organizations, innovation labs have the budget and authority to launch and develop their own projects autonomously, free from constraints of the core business. What's more, they employ a lean startup approach, identifying the most promising projects to work on and investing only enough resources to prove the potential for success. Innovation labs are often able to find hidden sources of growth and opportunity, ultimately discovering new frontiers and wielding enormous impact at their companies.
To meet their needs head-on, we introduced Labs to the Brightidea Innovation Cloud last fall. Since then, we've further developed the product's Team Workspace, refining its capabilities enabling labs to achieve three goals critical to their success:
Streamline processes: A built-in core innovation process enables you to collaborate more efficiently, adopt a lean mindset, and quickly identify the most promising projects.
Validate efforts: Intuitive tools help to substantiate your projects and showcase their accomplishments to key stakeholders and executives .
Report on impact: Visual dashboards help to closely track financial returns to the business—in detail and in real time.
Achieving these goals will enable lab managers to tackle the riskiest projects and measurably improve their chances of developing into marketable breakthroughs.
Through a suite of included innovation apps, Labs enables teams not only to nurture, manage, and track project developments but also to set up large-scale research into customer needs and stay abreast of cutting-edge market trends. By helping to run these activities, the apps help your team to maintain a sharp focus on developing innovations.
Ecosystem
Reach and Engage Innovators Outside Your Organization
As many companies develop innovation strategies, they realize the value of expanding their efforts beyond their borders. Ecosystem enables you to seamlessly connect to external resources and outside paths to market, opening up entire worlds of opportunity and all new possibilities. A new addition to the Brightidea Innovation Cloud for 2018, Ecosystem provides the tools to research and connect with sources of innovation well outside your organization, and then tap into the expertise of that external network. What's more, people in your company can communicate and collaborate freely with outside entities, all while easily protecting intellectual property.
Ecosystem helps your team to:
Identify opportunities: Whether academic or commercial, it's easy to connect to new sources of open innovation, and assess them for alignment with corporate strategy.
Manage centrally: With an easily built and customized open innovation portal, you can connect easily with outside organizations and manages numerous external engagements from one location.
Communicate freely: Specialized tools enable both internal and external ideas to be captured and submitted safely and securely, protecting IP.
The innovation apps included in Ecosystem enable a VC business unit to track promising ventures for investment and can also help to guide an internal accelerator or external startups towards growth and success. Facilitating these important activities enables these teams to make the most of their outside networks to more deeply develop their innovations in house.
Transformation
Manifest Every Opportunity to Digitally Transform Your Business
More and more businesses are recognizing the opportunities that digital transformation promises for their long-term success. The challenge lies in articulating a clear strategy and executing on it. To empower these companies with the right tools to do so, we introduce Transformation. Newly added to the Brightidea Innovation Cloud in 2018, this product enables organizational leaders to quickly identify and assess opportunities to transform their business, methodically track their implementation, and ultimately measure their impact.
Transformation helps to transform your business with:
Thoroughness: Identify and tackle opportunities for transformation from anywhere in your organization. Source ideas from your internal consultants, or uncover hidden opportunities by crowdsourcing from the whole enterprise.
Efficiency: Rapidly crowdsource ideas for transformation, route them to expert evaluators, and focus quickly on those with the highest potential for success.
Accountability: Quantify the impact of transformational changes and closely monitor the time and resources used to implement and manage them.
In addition to helping to source and research opportunities for digital transformation, the innovation apps included in Transformation empower teams to crowdsource suggestions from employees or gather ideas from internal consulting teams, and route them to the right decision-makers to evaluate and take action.
Services to Customize the Innovation Cloud
We're the only vendor in the industry now to offer a full suite of products empowering organizations like yours to crowdsource ideas at scale and to develop the most viable ones into marketable breakthroughs. To maximize your success, Brightidea offers a range of services tailoring each of the products in our Innovation Cloud to any innovation strategy. Our services will help to develop your team, define your scope, and make the most of every product we offer.
Whether you're launching an innovation program, setting up a funded innovation lab, engaging an external ecosystem of innovators, or aiming to drive company-wide transformation, the Brightidea Innovation Cloud® now supports every type of innovation initiative. It's all part of our ongoing commitment to be the industry leader in corporate innovation management.