Reading Time:
3
minutes
If you're looking ahead to ramping up innovation efforts by 2020, you're moving too slow. But don't worry. Our latest Google Hangout,
Developing Your Innovation Program Goals in 2016
, featuring guest speaker Peter Burris of Forrester, zeroes in on ways companies can set and meet innovation goals
in the coming year
– and why they must.
Consumers increasingly demand digital engagement – and it's driving innovation development in many industries. If this phenomenon hasn't touched your industry yet, you can be certain it will.
Consumers and digital rule today's market
"Market power is shifting to consumers because of the changing social graph," Burris explains. Information that used to pass down from business to consumer is now exchanged consumer to consumer via digital channels – where they can influence each other to adopt or abandon a product.
So it's not just about innovating with the customer in mind – it's about involving consumers in the process. That's something Brightidea does as well. We survey our clients– so when WE innovate and make changes based on their needs.
This information also helps us offer recommendations on innovation goals they might wish to set. Because there's no one-size-fits-all solution for how to approach innovation. It depends on where you are in the process.
But one thing is indisputable: "Innovation is moving closer and closer to consumers, and it is going to be so much more powerful and potent," as Burris says. "Every business has to come up with a strategy for managing innovation right now."
Goals for every stage of the maturity model
But what should that strategy BE? Burris contends that the most important goal organizations should set for 2016 is recognizing that innovation "can and MUST be practiced." So buying into that idea as a company, and STARTING (versus waiting to line up various ducks) is crucial to innovation success.
Brightidea shared the results of our TechValidate customer survey in September 2015 where Brightidea customers shared their goals for their innovation program: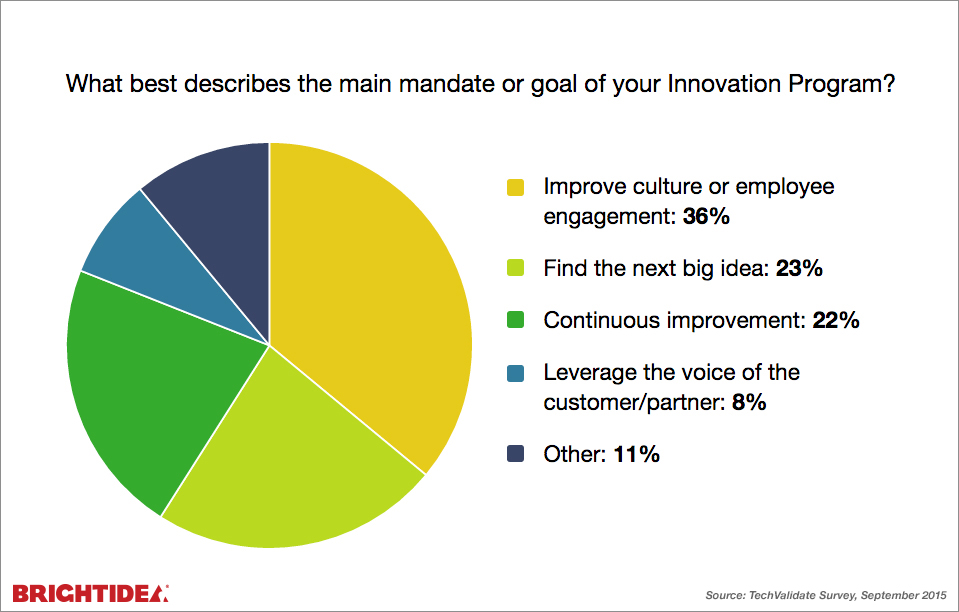 Certainly in the results of the survey below, we see that executive buy-in is a big concern of our customers. This should be considered when deciding on your innovation goals. In our recent TechValidate survey, only 25 percent claimed to have direct engagement and support from the CEO. Meanwhile, 58 percent cited a "top down" approach, with general awareness at the C-level and support from one or more executives.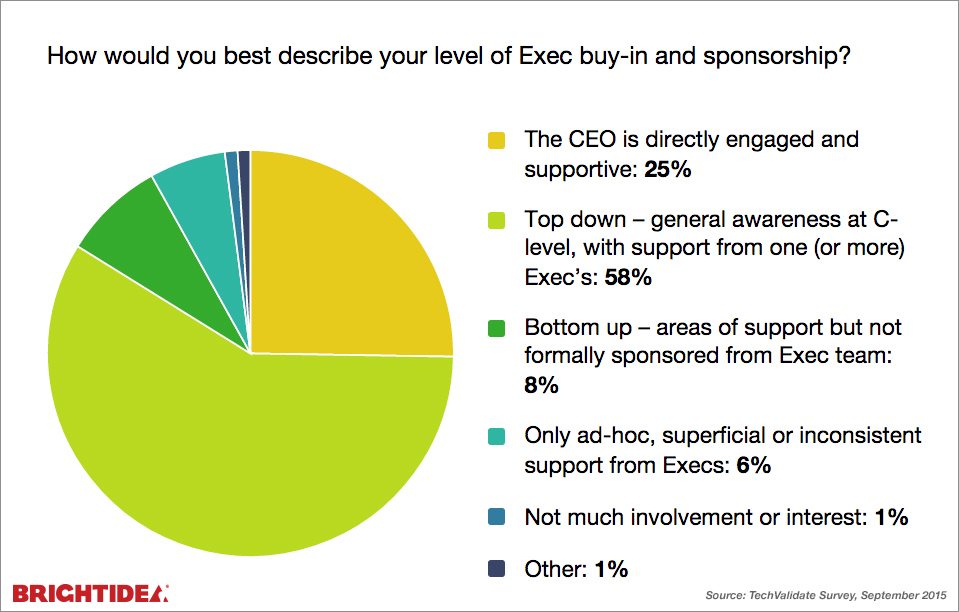 There's room to grow there – because executive support (or lack thereof) can make or break your innovation program. For many, this could be a top goal in 2016.
Brightidea shared their maturity model and walked through possible goals to consider depending on where you are in the maturity model:
Those just starting out with innovation, engagement may be a focus. With only a few dedicated resources, your goal may be to do a set number of challenges (we recommend five or more in the first year), increase the number of unique participants, or expand the number of departments involved. Increasing executive sponsorship will be a crucial factor here.
After the first year, the focus shifts to outcomes. Brightidea's dashboards and new Command Center help you see your results, so Innovation Leaders can quickly showcase metrics and success to stakeholders. For example, the goal may become the number of successful challenges now (ten or more), dollar or number of outcomes or value.
And in year 3 or beyond, scaling effectively is a good goal at this point, and maintaining a solid innovation culture throughout your organization. You might look to goals of scaling across geographies or additional departments now. You may also want to consider results of an "Employee Climate Survey" and outcome goals.
These are just a few recommendations we know make sense for organizations at these stages. Burris adds that, to be successful, innovation must be recognized, formalized, practiced and institutionalized. So goals that put organizations on this path also make sense.
It's up to you to decide what innovation goals align with your business objectives and plan and where you are in the innovation maturity cycle in 2016.
Whatever those goals may be, Burris is right when he says: "Executives to rank and file employees must acknowledge that innovation is important and part of the future of the company. It's not enough to say you're going to do more – you have to DO it. Or you'll be left behind by all the others who are."
To hear more about setting goals for your innovation,program, check out our Google Hangout Developing Your Innovation Program for 2016 – or reach out if you're ready to start practicing innovation today!