Reading Time:
5
minutes
Spring is in the air. It's the time of year when great things come to life, surrounding us with all that's fresh and new. It's also the perfect time for us to announce our Spring 2018 Release.
Everyone knows the early bird gets the worm—that's why we pride ourselves on giving you features you simply can't get anywhere else, to keep you one step ahead of the competition. With that in mind, we've introduced a number of upgrades to the Brightidea Innovation Cloud® that will speed up the progress of your innovation activities. With this new release, users get more access and greater transparency to information, along with smoother and faster navigation. It'll now be easier for innovation to sprout, grow, and thrive in your organization.
Easier Navigation for Challenge Administrators
A long-awaited feature that Administrators will welcome is the new Admin Navigation Bar. Enabling quick navigation between the front and back ends of the platform, it greatly simplifies movement across important areas of any initiative. What's more, the menu bar is responsive to screen size, making it just as useful on smaller mobile devices.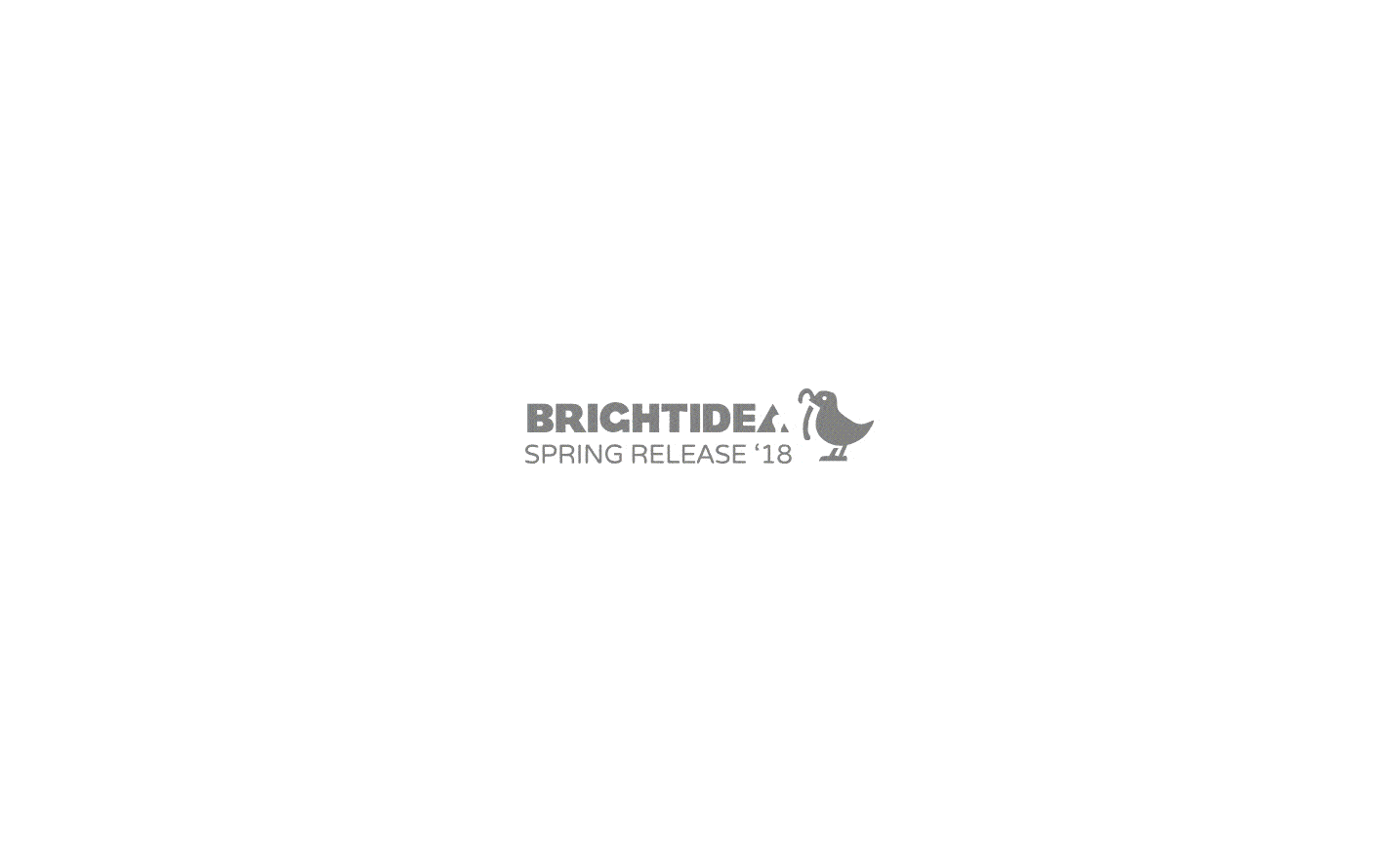 New Search: Recent Items, Quick Links, Greater Relevancy
We've heard from customers that search and navigation of the platform could be a better experience—and we couldn't agree more. So we've made significant improvements in those areas, enabling you to find the content you care about faster. For starters, the entire back end of the search function has been upgraded, giving your queries greater relevancy and speed. And to make navigation easier, users now have access to a list of recently viewed items as well as quick links to different areas of the platform (such as the Steps View or the Team Workspace in Labs). Thanks to @Sean for his IdeaSpace contributions to this feature. Better Pipeline Visibility for End Users
Since their introduction last fall, we've heard that Idea Boards are a useful way for end users to view idea submissions. But we've learned we could do more to improve pipeline visibility. So now we've introduced the Steps View for End Users, allowing them to see how their submissions are progressing, and keeping them better informed and more engaged with the process. This front-end view supports the same sorting, filtering, and bookmarking available for idea boards, and administrators can set it to one of three viewing modes: Stage-only, Steps-only, and Stages+Steps. New filtering options have also been added, including the ability for end users to filter for their submissions and subscriptions. Thanks to @Kobi, @Kendra, and @Marieke for their IdeaSpace contributions to this feature set.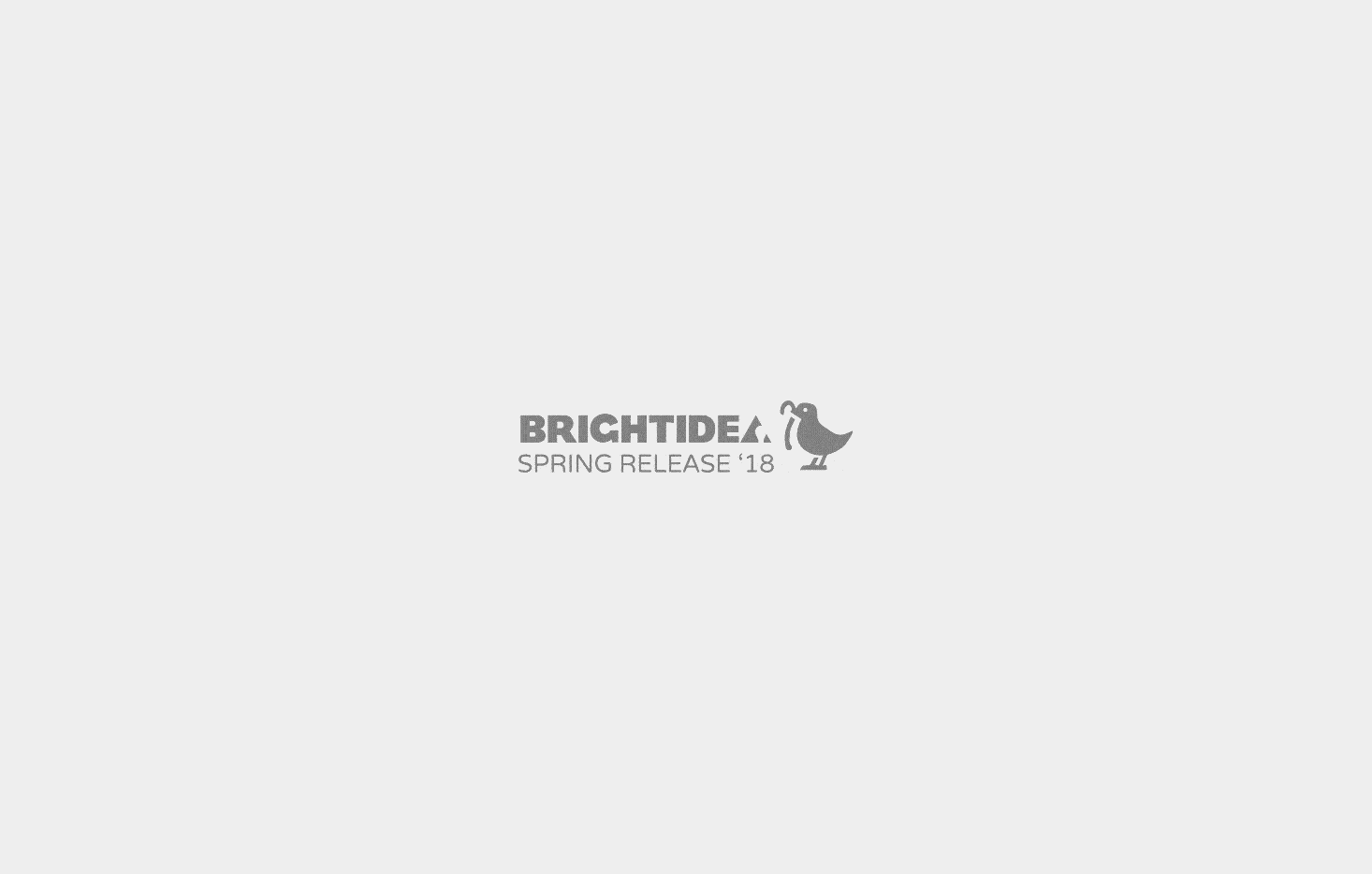 More Feedback for End Users, More Visibility for SMEs
Typical of spring, new things are popping up everywhere—including evaluations! Enhancements to the Evaluation Tab make it available to more roles and in more areas of the platform than ever before. Evaluators can now reference evaluations from previous steps to help them complete their own and, using a new filter in the Idea Boards screen, can view submissions for which they've completed action items. In addition, the tab now supports all rounds of Scorecard—and now also Single Scale—evaluations. Although visible only to Administrators by default (as a new tab in the View Idea screen), the feature can now be extended selectively to Evaluators and/or Submitters. Thanks to @slywy, @Damian, and @Brad for their IdeaSpace contributions to this feature set.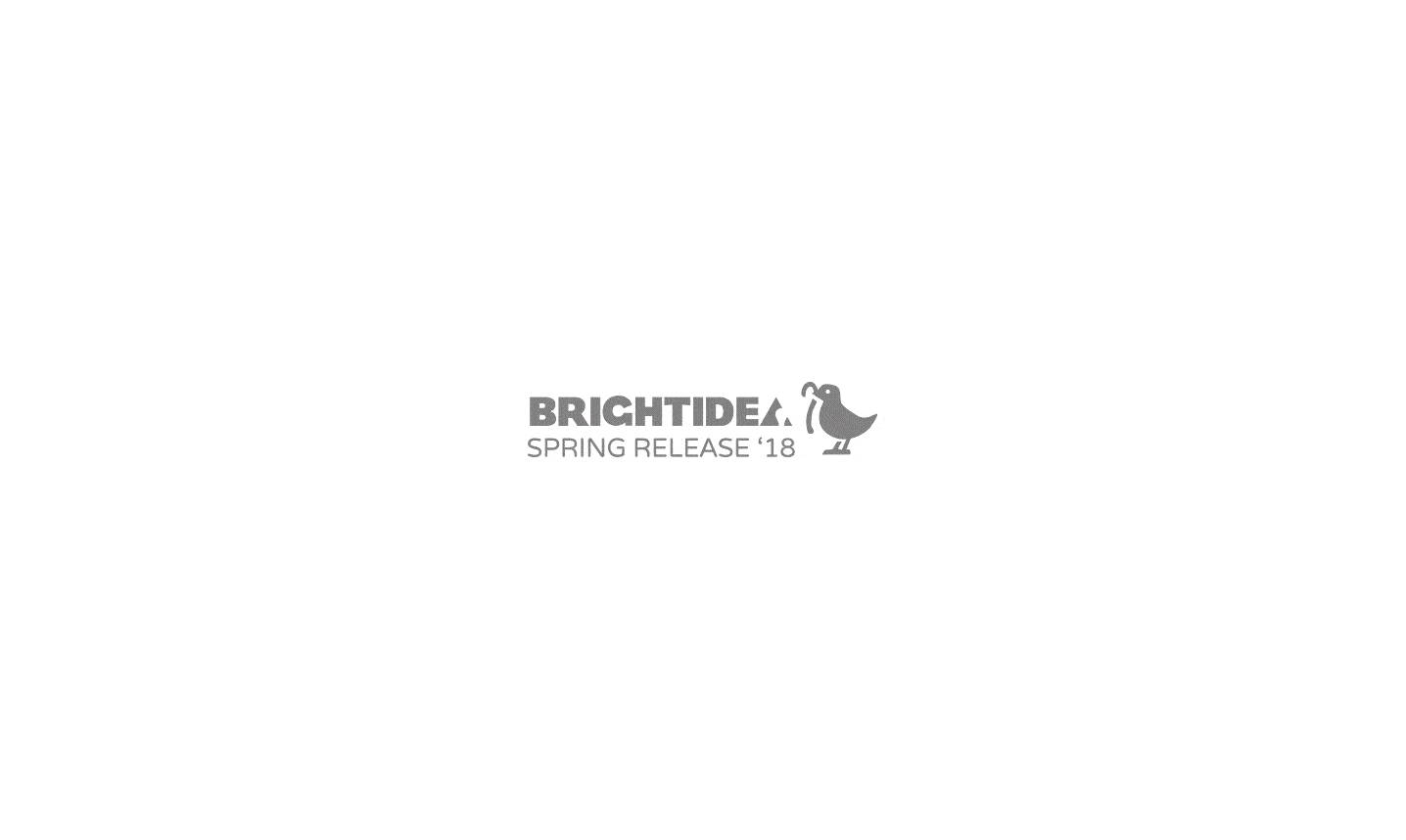 New Enhancements Sprouting Up in Team Workspace
With the spring season comes new growth 🌱 especially in the Team Workspace. An absolute hit with customers since we introduced it last fall, we've made the feature even better by adding some great new capabilities. Using a drop-down panel, team members can now Filter To-Dos assigned only to them, dramatically improving their relevancy. The workspace now enhances collaboration through Risky Assumption comments, and boosts information transparency with Risky Assumption statuses, which indicate the assumptions currently being tested, validated, or invalidated. These capabilities are part of a new slide-out panel, where team members can view and add more detail—including attachments—to any assumption on a project. And finally, thanks to decreased email notifications, team members will now receive emails only for key events occurring in the workspace. We've also added a number of other minor improvements you're sure to appreciate.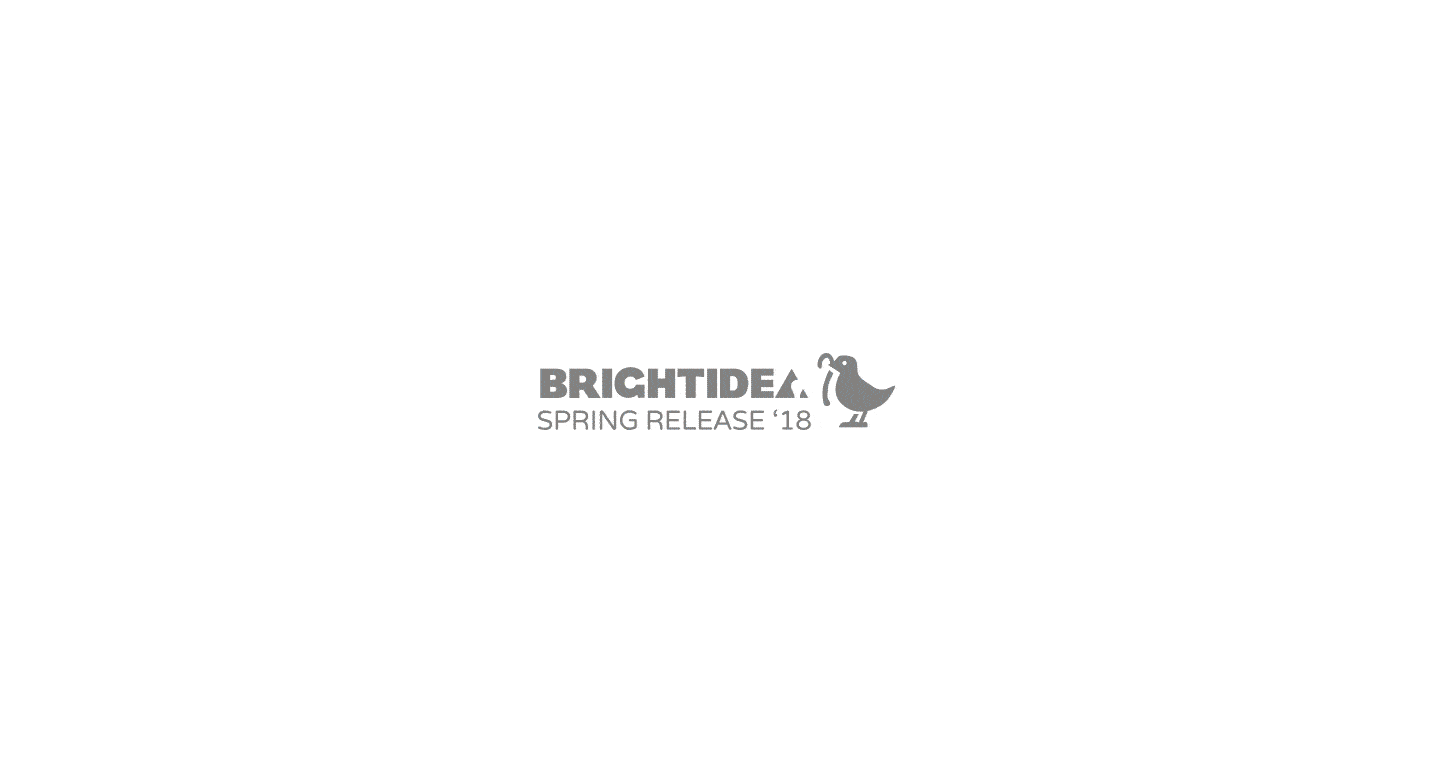 See How and Where Your Administrators are Assigned
Customers have been asking for a better way to view and manage Administrators of the platform—and once again, we've listened! Now in the People pillar there's an Administrators Tab, where System Admins can see the maximum number of Administrator roles allocated by month, the areas they're assigned to, and quick links to management areas for each of them.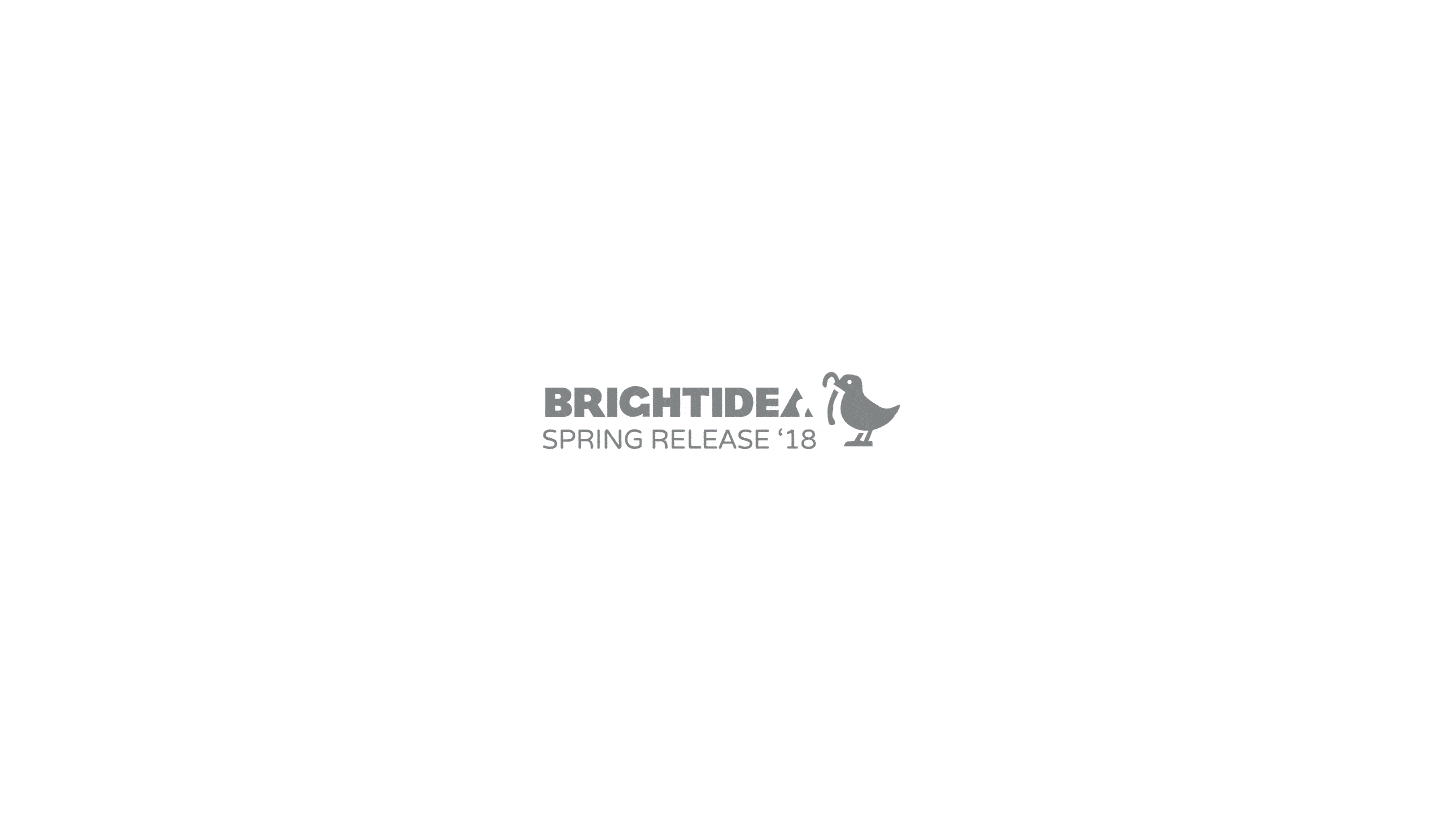 Better Segmentation Between Internal and External Users
For innovation teams engaging their external ecosystems, we've introduced a great new feature. Because it's important for these users to limit the proprietary information shared with outside stakeholders, now we've made it possible to flag and identify External Users in the system. It's another layer among many enabling teams to protect their intellectual property while connecting to an innovation ecosystem.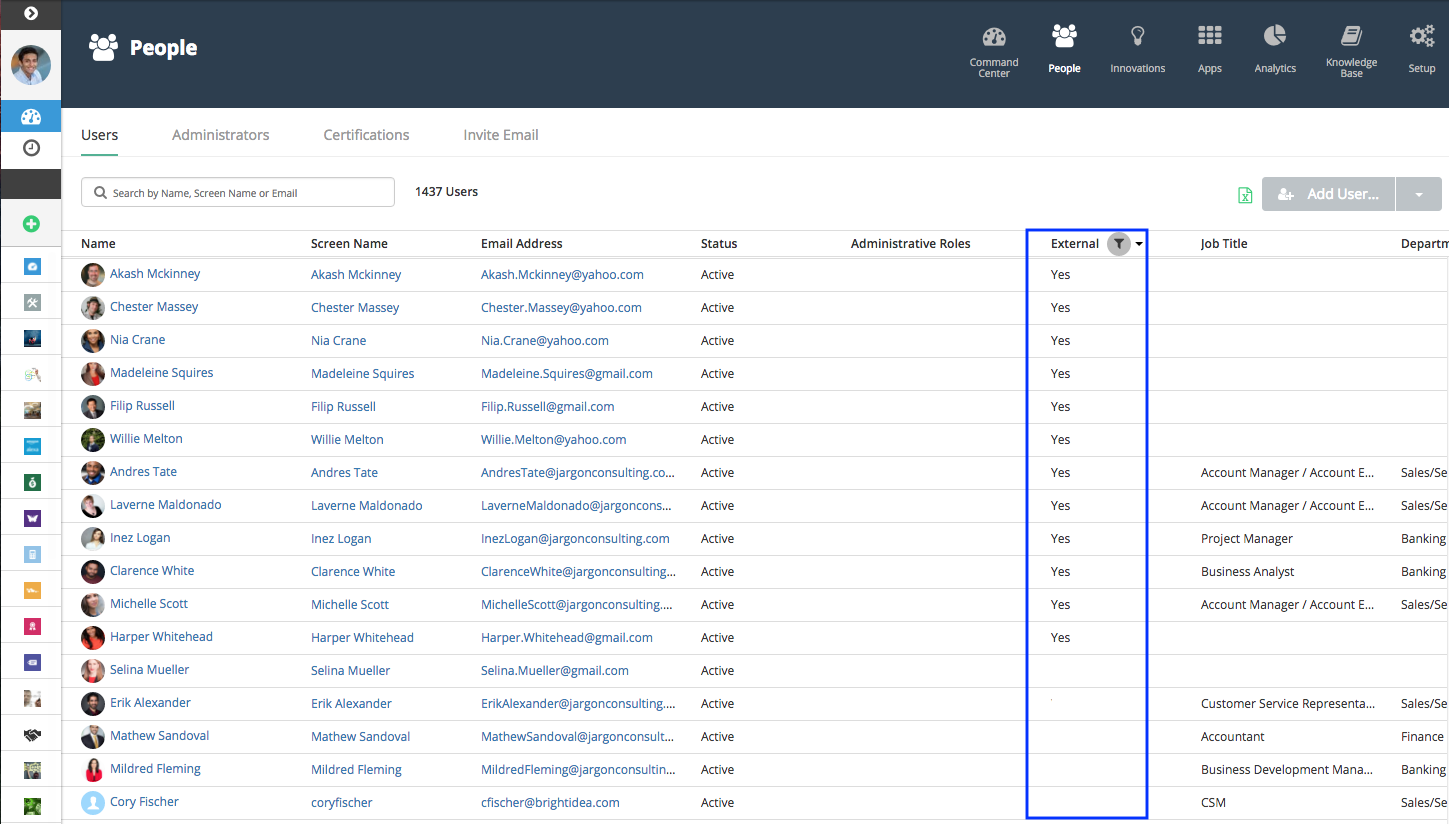 More Collaboration on the Go!
Even with all the fresh, new features we've added to the desktop experience, we've made sure not to overlook the Brightidea mobile app. And so, based on feedback from customers, we've introduced a number of enhancements to the app, making it even more useful to users who aren't tied to a desk.
With the newly updated app it's now possible—entirely on the go—for users to reply to and vote on comments and for newly invited users to self-register for the system. We continue to learn from our customers how we can make the app better suit their needs on the go, and we welcome all your ideas!
To get these enhancements, be sure to download the latest version of the app (for either Apple iOS or Google Android).
A New Season of Growth is Upon Us
With the whole world now abuzz about innovation and transformation, you can rest assured the worker bees 🐝 at Brightidea will not rest until you have everything you need to transform the way your company innovates. If you like what you see here, please drop us a line, or send us a tweet, and let us know. Thank you to all our customers who contributed ideas to this release and huge thank you for making the Brightidea Innovation Cloud® the #1 rated platform for innovation management in 2018!