Reading Time:
4
minutes
September 25, 2018 update: G2 Crowd has published its first-ever Idea Management Report. In it, the Brightidea Innovation Cloud® has—once again—been rated #1 in its software category. Be sure to check out the report to see why Brightidea continues to lead the innovation management industry.
This year has been a stellar one for Brightidea and its customers. We're proud to announce that as of June 1, 2018 the Brightidea Innovation Cloud® is the #1 rated software platform in idea management, for the 2nd quarter running! Long ago we established this goal of customer satisfaction—and we've finally achieved it, based on reviews from the top two enterprise software review sites, Capterra and G2 Crowd.
What makes the reviews on these sites so compelling is their objectivity and candor. Users share their experiences in every single category of enterprise software and services—CRM, ERP, HR, Security, Analytics, Digital Advertising, and Content Management, just to name a few. Capterra and G2 Crowd, each with about 400,000 independent and authenticated user reviews, have long been a source of reliable, unbiased information about software for potential customers looking to select a vendor among the often numerous options on the market.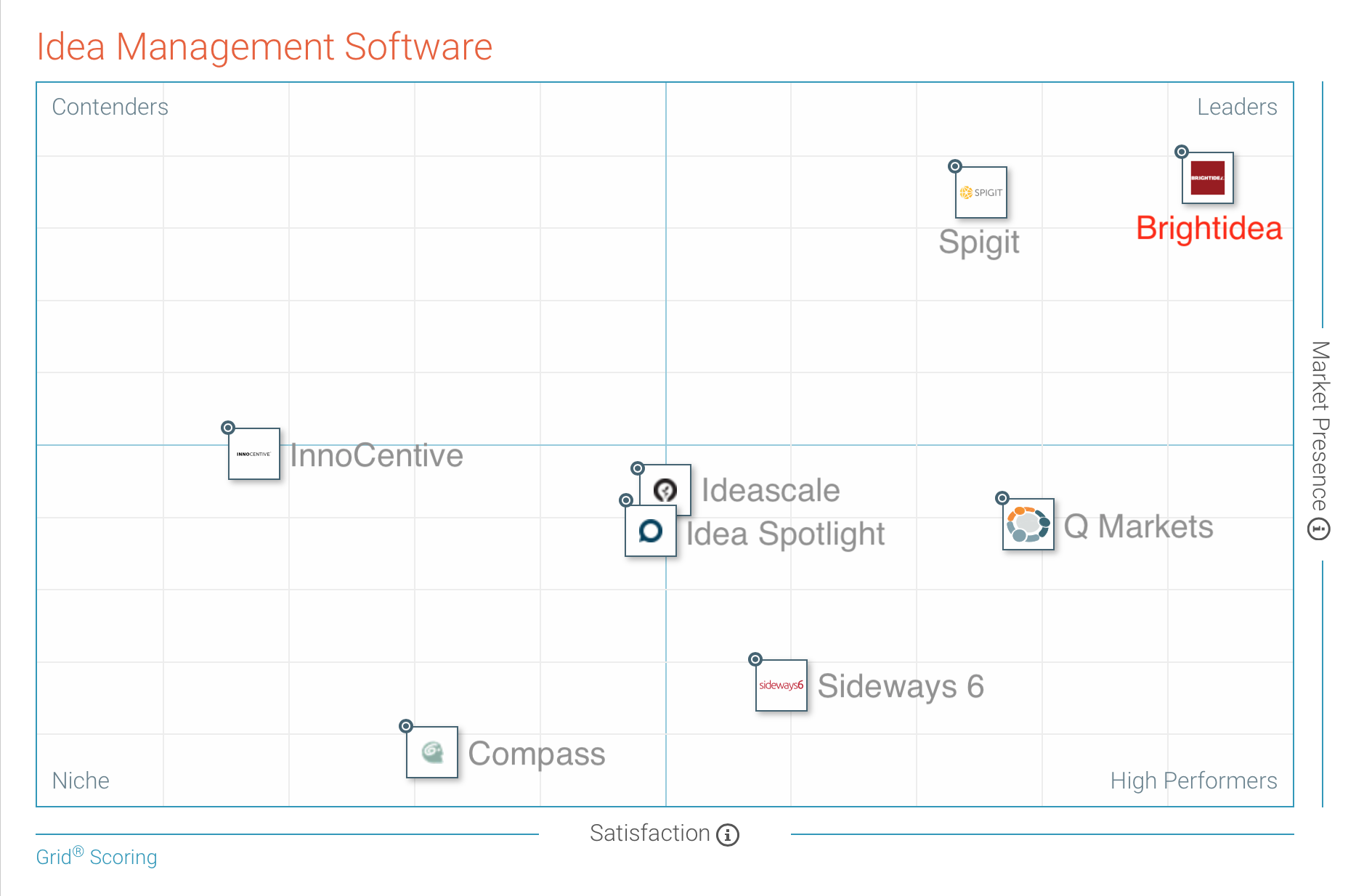 And that, of course, includes the category of Idea Management. Brightidea now leads the industry in our category—both in our market presence and in every aspect of satisfaction:
Features and functionality
Ease of setup, administration, and use
Quality of customer support
Ability to meet requirements
Value for money
In the G2 Crowd Grid® for Idea Management, we've been named category leader. To qualify for inclusion in the grid, a product must have a number of core capabilities. First, it needs to engage customers, employees, or other stakeholders via web-based applications and forms. Secondly, it must gather solicited ideas and feedback onto a central database, and allow for collaboration, edits, and input on collected feedback. And finally, it should have an organized search functionality within the database to select and reject ideas.
Of course, it all comes down to our customers. What gives our reviews so much weight is that they come from actual users of the platform—not from industry analysts who are often incentivized. In short, Brightidea is the "people's choice" in innovation management software. But don't just take our word for it. Customers from every industry have expressed what they like most about the platform, sharing positive feedback about using it to manage their innovation initiatives across the board. Whether highlighting the functionality ("feature rich; supporting all of our requirements"), usage ("easy to use; easy to customize; gives ability to vote on and crowdsource ideas"), support ("always first rate; very responsive to our demands"), development ("frequent improvements keeping up with industry trends"), or our overall approach ("passionate about innovation rather than merely pushing their product"), customers have had glowing things to say about every aspect of the Brightidea experience.

The sheer number of positive reviews about our platform is a testament to our unwavering attention to the user experience—something we've always taken very seriously at Brightidea. Ever since our inception more than 19 years ago, we've known that developing world-class enterprise software is an ongoing effort that requires not only staying abreast of the latest advances in technology but also constantly attending to customer feedback. In fact, it's what our Customer Success team is all about: empowering every organization using our platform to make the most of it and drive success in all of their innovation activities.
We know that the innovation process can sometimes be daunting. But we believe the right tools, resources, and support can transform that process, accelerate its impact, and significantly boost its value. We also believe that
innovation is too important to be left to chance
. That's why we've always been compelled to develop software and services that collectively meet those goals and empower every individual with the opportunity to make the most of their ideas—and actualize the best of them.
What makes Brightidea unique is that we have designed our products around
specific innovation roles
—so we have a clearer view of our customers and their needs. This approach has been proven to make our customers more satisfied, more successful, and able to generate a stronger ROI than companies that take a different approach.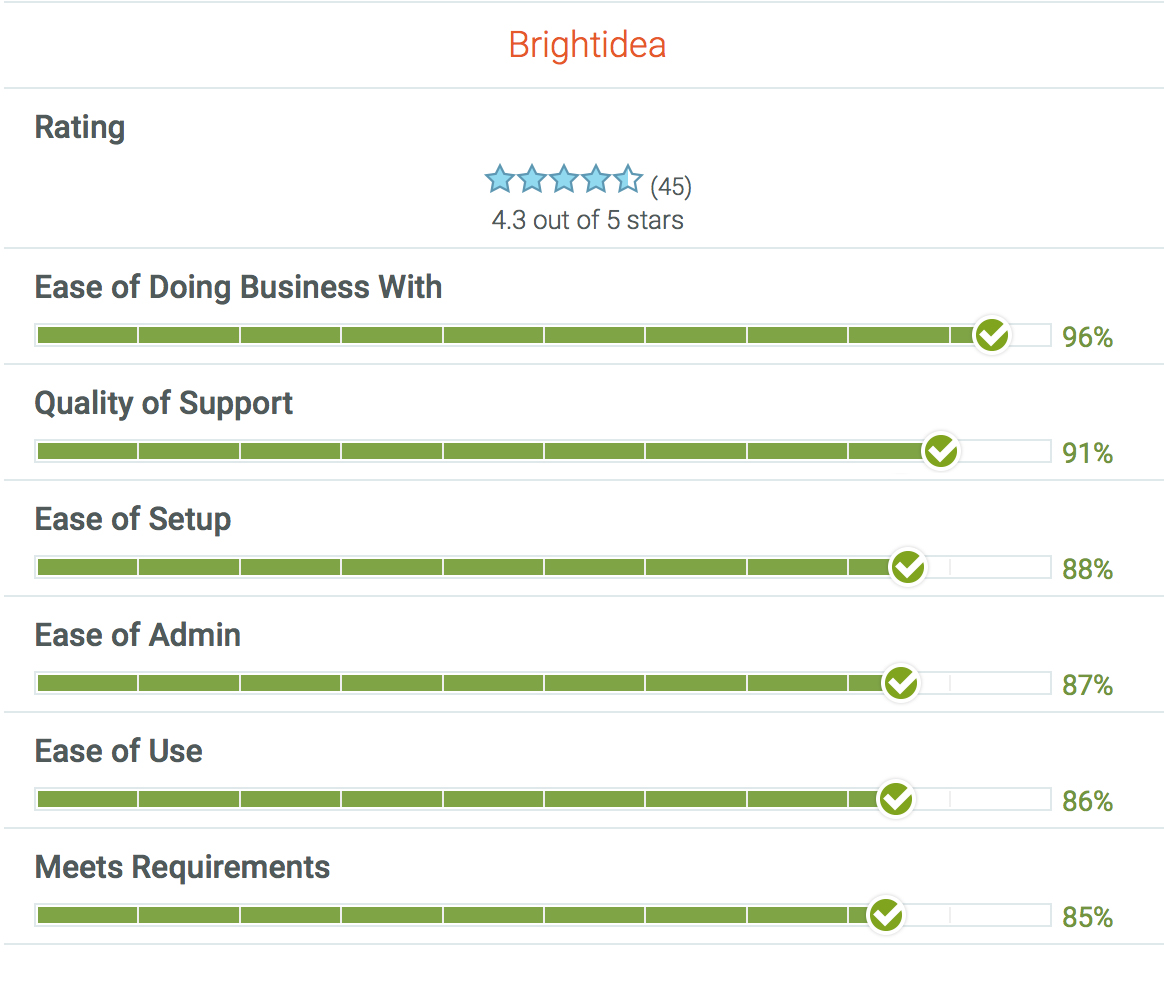 We're absolutely thrilled that we've achieved this high level of satisfaction. But we owe much of the credit to our customers themselves, many of whom have taken the time and energy to provide us with feedback on how to make our software a better experience. With their support, we're driven in our commitment to continually improve the Brightidea platform and transform the way companies like yours innovate.
Thanks to all our customers who have helped to make the
Brightidea Innovation Cloud®
the #1 rated platform for innovation management in 2018!