Reading Time:
14
minutes
Summer is here! Hopefully, you've got plans to recharge and refresh, whether it's a relaxing beach vacation or exciting travel abroad. With people in and out of the office, it may feel like things are slowing down. But the good news is — we've got new product features in store that will help you keep innovation moving forward!
Today, we are excited to announce our Summer Product Update 2019! We all know it's a mobile-first world, and we want your employees to have the option to engage in innovation, wherever they are. That's why we've focused on creating features and capabilities leveraging mobile technology to help busy subject matter experts evaluate ideas on the go, facilitate feedback via audio commenting, and allow employees to capture ideas in rich media formats. To round out the Summer Product Update 2019, we've also added scores of customer-requested productivity enhancements to our platform, to make you more agile than ever!
So are you ready to see what's in store with our Summer Product Update 2019? Let's go!
Mobile Idea Evaluations
High quality feedback on ideas is critical to the success of any innovation program. But subject matter experts are busy people, and they can bottleneck the innovation process in their role as idea evaluators. Wouldn't it be great if you had a better way to keep up with your busy evaluators? Guess what — you're in luck!
Mobile evaluations are now available on the Brightidea Mobile App (on both iPhone and Android)! Your evaluators will receive a notification whenever they have a new Single Scale or Scorecard action item — on the go, on their phone. Tap on the notification, and they are taken straight into the app to their action item to evaluate the idea.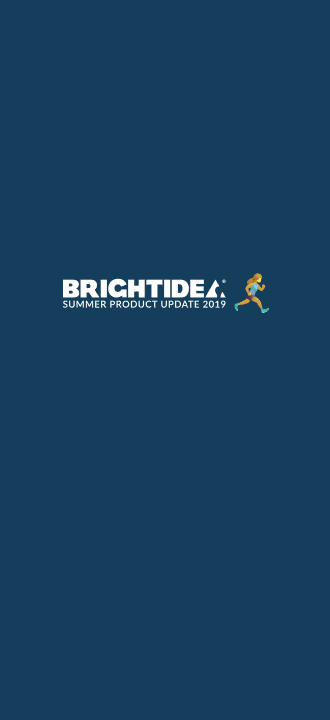 Mobile Audio Comments with Transcription
Getting your subject matter experts' ratings and scores is just the start. Capturing their valuable feedback around why they rated an idea as they did is critical to the innovation process. The star of our Summer Product Update – Audio Comments with Transcription – is designed for exactly this. Experts are much more likely to share their feedback when it is easy to do so; and speaking beats typing hands-down in most situations. In addition, voice and tone add a ton of information that text alone simply cannot convey.
So make sure to let your evaluators know that they no longer need to stop and type out their comments on an idea. The next time they need to ask that quick clarifying question or provide an additional piece of feedback, consider the new, easy way of leaving an audio comment. Simply tap and hold the microphone button on the Brightidea Mobile app to record voice. Not only is the audio file saved for the submitter to play back in Brightidea, but the recording is also automatically transcribed into text.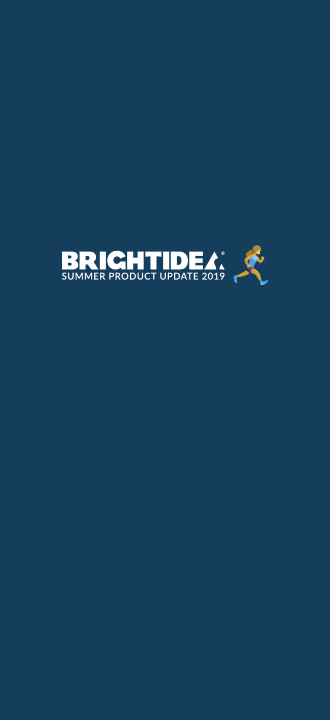 Video Submission & Playback
Ready, set, record…! 🎥
Brightidea is excited to bring you another star of our Summer Product Release 2019: Video Submission! Have you ever hosted a Pitch Competition and wished that participant teams could upload videos of their pitches for judges to review?
With today's update, your users can now upload a video with their submission on both mobile and desktop. 😎 An idea submitter can simply attach a video to his/her idea, and it will be displayed on the idea page with a player for viewing!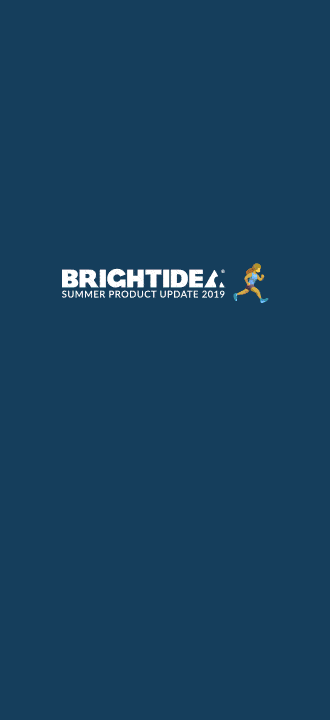 Category Assignment for Development Action Items
We want to thank all our customers out there who helped us identify the opportunity to optimize your workflows by adding category assignment for development action items. You have spoken, and we have listened!
Now, administrators can set up a pipeline workflow so that development action items are assigned to specific individuals, based on the category of the idea. For example, within the Marketing Department's idea box, the PR ideas will go to the PR team for further development, and the branding ideas will go to the brand team. We know that this improvement will help simplify workflows for all the innovation managers out there who utilize categories as part of their innovation initiatives.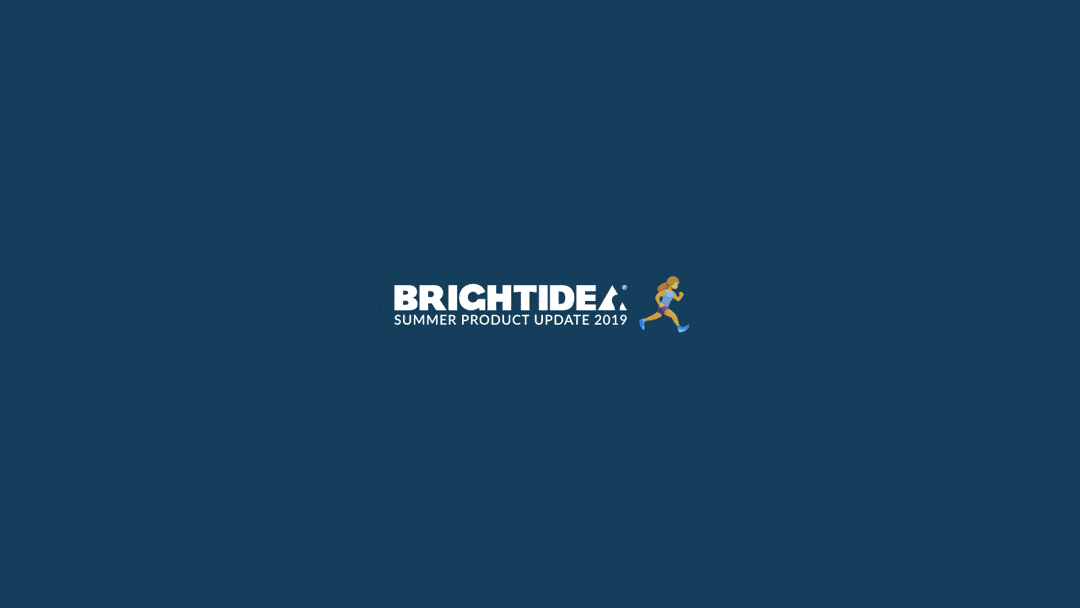 Custom Business Impact Fields
Did you know that the ideas generated on the Brightidea Innovation Cloud® have been responsible for driving an average of $70 million per day in business impact in 2019? That's over $4 billion already for the year!! 💡💰
We are passionate about helping our customers drive measurable business impact from their innovation initiatives, and we have heard that business impact can come in many different but measurable forms.
Previously, as a Brightidea user, you could only enter and track business impact for predefined types (revenue, cost savings, brand awareness, etc.). You asked us for more flexibility to match the needs of your business, and we listened! Now, you can customize and configure your business impact fields to be anything you want to track! 👏So, go ahead and start tracking those improvements you've made to employee safety and revenue retention! 📈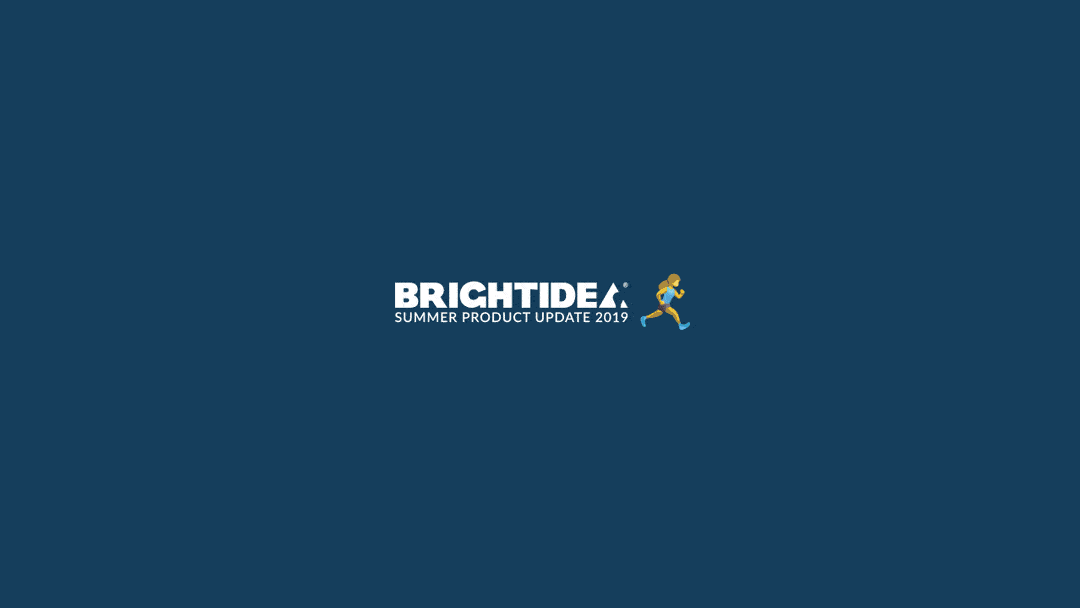 And There's More!
As part of the Summer Product Update 2019, we have some more great items in store, for both administrators and employees!
Some of our favorites:
Submission Form Builder Updates
It is now easier than ever to control the idea submission experience, with enhancements that allow admins to reorder and hide fields on the submission form.
New Community-level Reporting
Exports are now available for initiative stats, user activity, submission outcomes, and more at the community level.
User Homepage Updates
New engagement features include an "All Activity" feed that shows innovation activity across the organization, promotion of "pre-launch" activities, and more.
Azure Active Directory Marketplace App
A Brightidea App is now available for customers who want to use Microsoft Azure for SSO/Active Directory sync.
You can find all of our Support knowledge base articles for the Summer Product Update 2019 here.
Running on All Cylinders
As the fast-moving world of innovation continues to evolve, you can rest assured that your innovation experts here at Brightidea will continue to develop solutions to keep you agile and your innovation programs moving swiftly. Whether it's supporting you on-the-go with mobile or through productivity improvements to our software, our goal is to get you running on all cylinders!
If you like what you see here, please drop us a line, or send us a tweet and let us know. We also want to say a big thank you to all of our wonderful partners, customers, and fans that contributed their ideas and feedback to this update and for making the Brightidea Innovation Cloud® the #1 rated platform for idea management for over 6 consecutive quarters! 🏆 👑 💯
PS. Hurrah to the awesome team behind the Summer Product Update 2019!