Reading Time:
5
minutes
Our recent Birds of a Feather event in Chicago did not disappoint. Now in its 6th year, drawing innovation leaders from around the globe, this year's event took place at WMS Gaming's facilities just outside of Chicago – a modern and technologically innovative building in its own right.
BOF attendees flocked together the evening before the event to network, partake in casino games, and compete passionately for the ultimate prize of the night – a new Brightidea platform feature to be coded and delivered to the winning party just 24 hours after the announcement. Read more about the new feature developed by Brightidea.
The next day was filled with juicy insights from WMS Gaming, Autoliv, ACT Inc., Quicken Loans, and Humana. Here's 9 tips our innovation practitioners shared to ensure a successful innovation journey:

#1 Take an incremental approach to introducing new technology

Larry Pacey, Head of Global Product Strategy for WMS Gaming, spoke about the company's unique corporate culture – a culture where innovation is embedded into its DNA. Over the course of its long history, WMS Gaming has brought many significant innovations in casino and social gaming to life for millions of enthusiasts.
However, having a long-term vision and the desire to commercialize it is not enough. Consumers need to be ready for innovative products, and sometimes, it takes a building block approach to get there. For example, in 2003, WMS was the first company to put a video overlay into their slot machines appearing in front of the original mechanical reels. This created a visual familiarity that consumers were used to seeing, while also still advancing the consumer experience.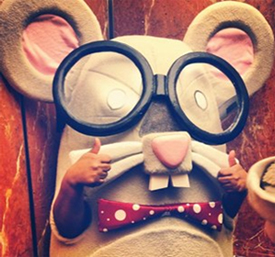 #2 Keep it fun and cheesy

Both literally and figuratively, Quicken Loans' irreverent and fun culture shines through in the way they approach innovation. Kathy Ternes and Drew Butler's presentation showed us how they infuse fun into everything they do. Starting with the name of their innovation platform, The Cheese Factory, the program takes its brand inspiration from a cartoon mousetrap and even has its own mascot, Simon the Mouse. Recently, Quicken re-launched The Cheese Factory with a tongue-in-cheek video that shows employees that no idea is too small and that anyone with an idea can participate the company's innovation initiatives.

#3 Dedicate time to innovation

"We think that in the brain economy, innovation and creativity are key in developing ideas and creating jobs and wealth…" Dan Gilbert, Quicken Loans Founder and Chairman
Quicken Loans maximizes its "brain economy" by dedicating 4 hours every Monday to innovation. While this time doesn't reflect full 100% participation, these 4 weekly hours alone have created new revenue and cost savings opportunities because it asserts a mandate across the team to focus on innovation.

#4 Make innovation culture part of the program strategy

Presenters Laura Frisby and Kari Stillman at ACT, Inc. shared the importance of making a cultural shift to an innovation mindset which fosters creativity and new ideas. This starts with a strategy that builds a bridge for team members – taking them from their legacy thinking to a new perspective that is built on sharing, collaboration and ideas. ACT started their innovation culture review by taking an innovation maturity survey by Braden Kelley. This helped them set a benchmark and understand exactly where they were in their innovation program's maturity scale. From this point, they were able to implement new challenges that helped evolve and accelerate their innovation initiatives.

#5 Communication and feedback is key to success

ACT created the Bloom Out Loud Award, presented in an awards ceremony four times throughout the year to showcase the best new ideas, provide transparency into the ideation process, accelerate rapid prototyping and create a platform to share concepts with the entire ACT staff. Transparency and a physical forum where new ideas are recognized and rewarded is key to supporting a culture of innovation and creating a foundation for more collaboration.

#6 Recognize and reward to keep participants engaged

WMS Gaming ensures that rewards are an integral part of the process. The company created a traveling trophy "light bulb" that resides for one quarter with the team that received the most points for ideas submitted. Additionally, each quarter, the team with the most implemented ideas gets a group lunch where executives and challenge leaders have a chance to mingle and discuss the ideas in person with the group.
Across many different organizations, gift cards, a certificate and recognition by peers are more than enough to keep employees motivated and participating.

#7 Define roles and responsibilities from the beginning

For WMS Gaming, governance is critical to ensuring that ideas move effectively through the pipeline. It's important to create a process upfront and communicate expectations. Specific timing related to idea response, the types of ideas that will be accepted and agreeing to approvals are all set within their innovation platform to ensure that nothing falls through the cracks. Brightidea's rules engine ensures compliance with WMS' commitment to acknowledge all idea submissions within one day as well as the obligation to make a decision on new ideas within 72 hours.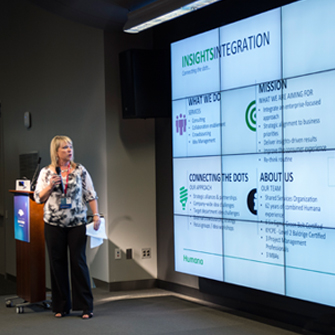 #8 Approach innovation as a shared service

Sabrina Prouty, Insights Integration Strategic Consultant at Humana, shared how her innovation team is structured much like a consulting organization that connects business units and ensures innovation initiatives are aligned with high-level corporate strategies and priorities.
The innovation team consults with various business groups, spending a significant amount of time planning and securing key resources from the teams. A Statement of Work (SOW) is created for every idea challenge that details out the scope, "problem" statement, agreed-upon criteria for submissions, projected impact to organization, and a timeline to launch (usually 8-10 weeks). All involved parties, such as the project lead and the champion, must sign off on the SOW prior to the challenge being adopted.
In the end, the team delivers a Results and Recommendations packet for every challenge that includes the identification of potential cost savings, trends and insights, a summary of groups that participated, and a cost / benefit analysis that identifies how many years it will take to achieve a return on the idea.

#9 Put your marketing hat on

Greg Thompson from Autoliv shared that each challenge needs to be treated as a unique project, and marketed in a similar fashion to a typical new product go-to-market strategy. From developing a catchy brand and name to staying in touch with participants – the challenge needs to be fun and resonate with the audience. Engagement can be achieved through communications channels, such as blogs and newsletters managed on the Brightidea platform that keep the challenge top-of-mind with audiences to encourage participation. Greg also recommends ensuring challenges are based on a real need. Making a challenge meaningful, especially as it contributes to the long-term strategic health of the company, which will infuse that innovative and collaborative spirit into your teams for the long haul.
For more Birds of a Feather insights, stay tuned to the blog! We'll be sharing more great content, including videos from this year's event.