Reading Time:
2
minutes
Dogfooding: a slang term used to reference a scenario in which a company uses its own product to demonstrate the quality and capabilities of the product.
It stands to reason that at this year's Birds of a Feather – an event dedicated to sharing and promoting innovation best practices – Brightidea would give itself an innovation challenge by way of an overnight hackathon.
This year's opening event held at WMS Gaming was a themed Casino Night and the stakes were high…in more ways than one. Customers Motorola Solutions, Humana, Autoliv, WMS Gaming, Quicken Loans, and many others had their eyes on the prize – the winner with the most chips would get the new feature of their choice developed by Brightidea…within 24 hours.
Humana won. And the hackathon was on.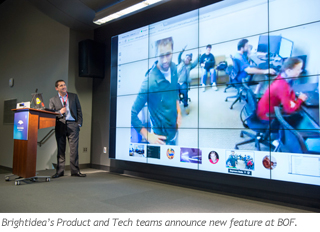 The feature? Humana wanted the ability for admins to search and filter by tags and admin labels, to provide greater idea search refinement. Tags are being leveraged increasingly within the
Brightidea Innovation Suite – for example, end users will be able use them to categorize ideas, subscribe to specific tags on ideas of interest and see notifications whenever they log in to their platform. We also decided to add advanced functionality that will allow admins to further organize ideas with sorting as well as new admin-only labels. After speaking directly with Humana to learn their pain points and business need, Brightidea's VP of Product Jason Hardy-Smith huddled with Brightidea's development teams to plan how to design and implement the solution.
After a furious all-nighter by the Product & Technical Services teams, the new feature spec came together and the new beta feature was brought to life.
Users can search ideas based on Tags and Admin Labels. Two new columns – for tags and admin labels – were added to the WebStorm™ admin ideas grid. A new dropdown box in the search area allows the user to specify the tags or labels to include or exclude in the search. The search results can even be bookmarked and exported into Excel.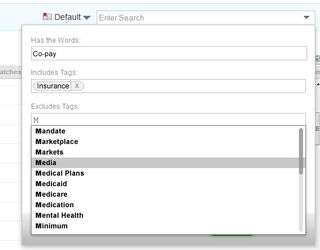 Here's an example screen shot:
The beta working feature was demo-ed to the BOF audience the very next day – to great response.
While this innovation example is less about the wisdom of crowds and more about luck of the draw, nevertheless it's a wonderful thing when a great idea comes together spontaneously to delight your customer.
This blog post was written by our new Director of Product Marketing, Steve Bell. Steve joins us with an impressive and extensive product marketing history, driving messaging and positioning, product evangelization, and sales enablement for enterprise SaaS vendors across CRM, Social Big Data, and Collaboration markets. Steve is an avid oenophile, foodie, and father to 4 teenage boys. We'll be hearing more from and about Steve in future blog posts.