Reading Time:
2
minutes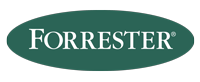 Genius may be "one percent inspiration and ninety-nine percent perspiration," according to Thomas Edison, but that one percent can be the difference between taking action now and waiting. And when it comes to innovation these days, waiting is the wrong move – because it gives your competitors that much more time to disrupt the space and send you reeling.
Successful enterprises have always known they need to continuously reinvent themselves to meet the demands of new generations of customers, but it's even more important now as the manufacturing, distribution, and information ages have given way to the current Age of the Customer. Keeping up with trends and expectations is no easy task, and innovation must be a constant goal.
To keep the inspiration happening we recently hosted a webinar on Innovation Trends to Watch and Inspire You featuring Chip Gliedman, Vice President and Principal Analyst at Forrester Research. Gliedman's IT background helps him serve CIOs using research focused on "IT investment strategies, innovation, justifying technology investments, business technology alignment, and IT satisfaction. He is a frequent speaker on innovation for Forrester.
On our webinar he shared innovation trends in a way that will inspire you to act. Here's just some of what he shared:
How to explore current innovation trends and decide on actions
How to exploit market opportunities to create business value
How to maximize profits by perfecting innovation processes
The questions to ask for specific innovation goals, whether product, process, organizational and market
How to use sustained innovation to avoid disruption
Common barriers to innovation
What skills to sharpen for innovation success
Benefits of open or "collaborative" innovation
Tips for getting started with your innovation program and for stepping up your game
And getting started is important! In fact 41% who attended the webinar shared that they are "struggling to get their innovation program ramped". You can always tweak your innovation process down the road, but once you take those first steps it will become easier and easier to keep walking – and eventually run. Brightidea has a methodology we would welcome sharing with you to help get your innovation program up and running if you CONTACT US.
Or take the first step by watching the webinar here: Innovation Trends to Watch and Inspire You.