Reading Time:
4
minutes
Unless you've been living under a rock (or the bottom of the ocean), you've no doubt heard of the reality television series Shark Tank. For the uninitiated, the show features aspiring entrepreneur-contestants pitching their proposals for new business ventures to a panel of venture capitalists, who then decide whether or not to invest. As the show's name suggests, the pitching process is highly pressured, given what's at stake for the contestants, the hard questions asked of them, and the short amount of time they have to sell their ideas. Now on its ninth season and third Emmy award, Shark Tank has been a runaway hit.
But the success of the shark tank formula doesn't end with television. Although the show popularized the format and brought it to the public eye, the act of pitching a proposal to investors has been around as long as there have been entrepreneurs. A shark tank is a great opportunity for investors to critically review not only new inventions, but also the business plans to commercialize them. And it has long been an effective strategy for funding innovative ideas that show a great deal of growth potential.
Predator or Prey: It's a Win-Win
Increasingly more companies are realizing the value of internal shark tanks—and not just those with innovation in their DNA, as in the technology sector. Organizations in even the unlikeliest of industries are running them. One such company is NakedWines, which offers customers great deals on premium wines by crowd-funding top-tier winemakers. The company uses shark tanks as way to give employees a formal but fun way present ideas for expanding the business and its services, from which a panel of voting executives then chooses the best to fund and pursue.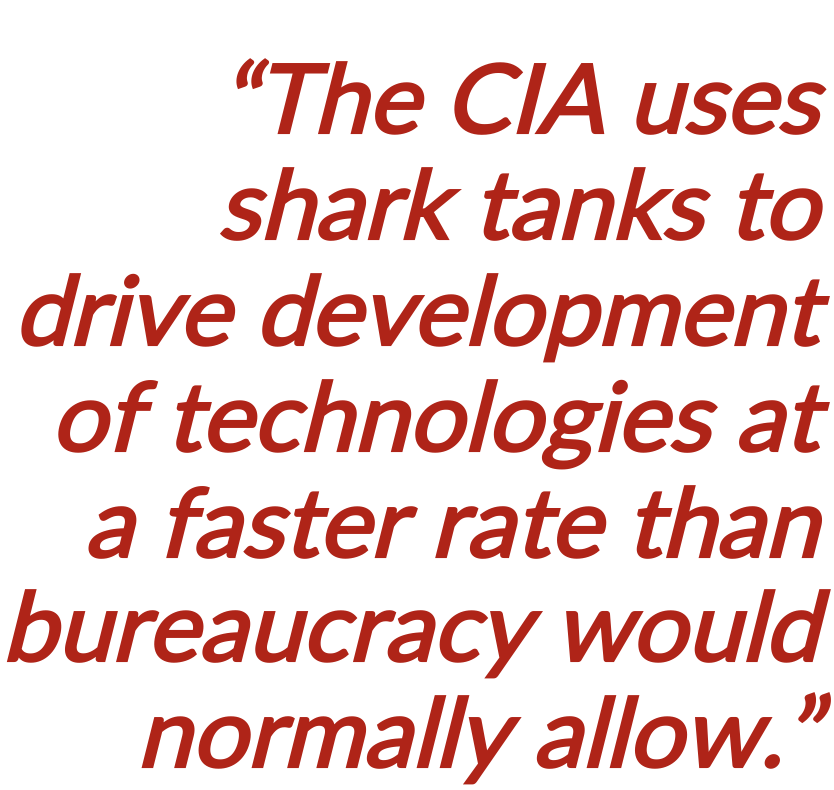 On the other end of the spectrum is the none other than the Central Intelligence Agency. The CIA recently began to run shark tanks as a way for employees to pitch their ideas to members of the Directorate of Digital Innovation (DDI) for potential funding and further project execution. As a division of the spy agency, the DDI was created in 2015 specifically to jumpstart cyber capabilities in the intelligence community. Speaking at the 2017 Public Sector Innovation Summit, CIA Chief Information Officer, John Edwards, announced that the agency uses pitch competitions to drive development of advanced intelligence-gathering technologies at a much faster rate than government bureaucracy would normally allow. That alone is a powerful testament to the efficiency of the format in advancing innovation.
Regardless of the industry, shark tanks are a great way to incentivize and fund business proposals that show promise. And many investment experts have offered advice to aspiring entrepreneurs on how to maximize their chances of a successful pitch, ranging from how to simply survive a shark tank to how to deliver a pitch that investors can't turn down. Even Shark Tank's own Mark Cuban, Daymond John, and Kevin O'Leary have all chimed in with their own tips.
Pitch: An App to Efficiently Run Your Shark Tank
But even as effective as a shark tank can be for funding promising projects, there are administrative challenges to running one. Applicants need an efficient way to submit their plans and to communicate with evaluators on follow-up questions. Judges need to evaluate proposals, assess their cost benefits, and communicate with applicants. And finally, once winning, entrepreneurs need to track the progress of their projects and measure their financial impact. Thankfully, there's now dedicated software to do the job. Brightidea Pitch is an app specifically designed to manage an internal shark tank, enabling entrepreneurs to easily pitch new business ideas for their own executives to evaluate and grant budget for further development.
With Pitch:
Entrepreneurs can submit business proposals
Judges can evaluate and fund projects
Administrators can assess financial impact
And with advanced capabilities such as team collaboration and financial tracking, Brightidea Pitch provides the control and oversight that's critical for keeping resources in check while allowing a project to thrive. Which can mean the difference between a proposal and a full-on commercial opportunity.
Team Collaboration. Preparing and pitching for a shark tank is often a team-based process. With Pitch, proposals can be submitted on behalf of a team, rather than just a single employee, creating a collaborative space for each member to communicate and receive project updates.
Mobile Friendly Judging. A big part of any pitch competition is the process of evaluating project submissions. The app's responsive design makes it easy for judges to use any type of mobile device to follow along with presentations and mark their scores in real time.
Projections and Outcomes. With detailed financial tracking in Brightidea Pitch, the impact of each project can be quantified with hard dollar figures. The projected costs and benefits of any proposal can be calculated, then compared to its actuals once launched as a real project.
Because it streamlines and centralizes tasks at every step of a pitch event, the app lifts the administrative burden of running one. Competition organizers, contestants, and judges can all communicate and collaborate with a single online tool, enabling everyone to focus on the event itself.
In the end, regardless of the tools you use to run one, an internal shark tank is a great opportunity for entrepreneurs to get their stories together, build strong business cases, and secure funding for potentially game-changing projects. With the scope of innovation involved, such projects often require a great deal of capital and executive support. But given the right break, one of them might just become the next big thing.
---
Find out how our software can help you run your shark tank more efficiently. Learn more about Pitch and Brightidea's other innovation management tools.