Reading Time:
5
minutes
Ah, summer is here. With the days now warmer and brighter, it's time to dig out your sunscreen, flip flops, and swimsuits. It's also the perfect opportunity for us to announce our Summer 2017 Release, bringing you a bunch of handy improvements that will help you get your job done quicker and have you out of the office sooner, so you can enjoy the sunshine.
With our current customers in mind, we've focused on usability for this release, making small tweaks that we hope will make a big difference in your daily routine. The latest enhancements now make it easier to find and organize information in high-traffic areas of the platform, streamlining repetitive tasks and boosting your overall productivity. We strive to continually improve the user experience of our software and this release marks a major milestone in that effort. We think you'll love it.
New Quick Access Panel
Rearranging widgets on the Enterprise and Challenge homepages just got a whole lot easier. The newly designed, low-profile widget control panel is now more readily accessible and activates a smoother drag-and-drop function.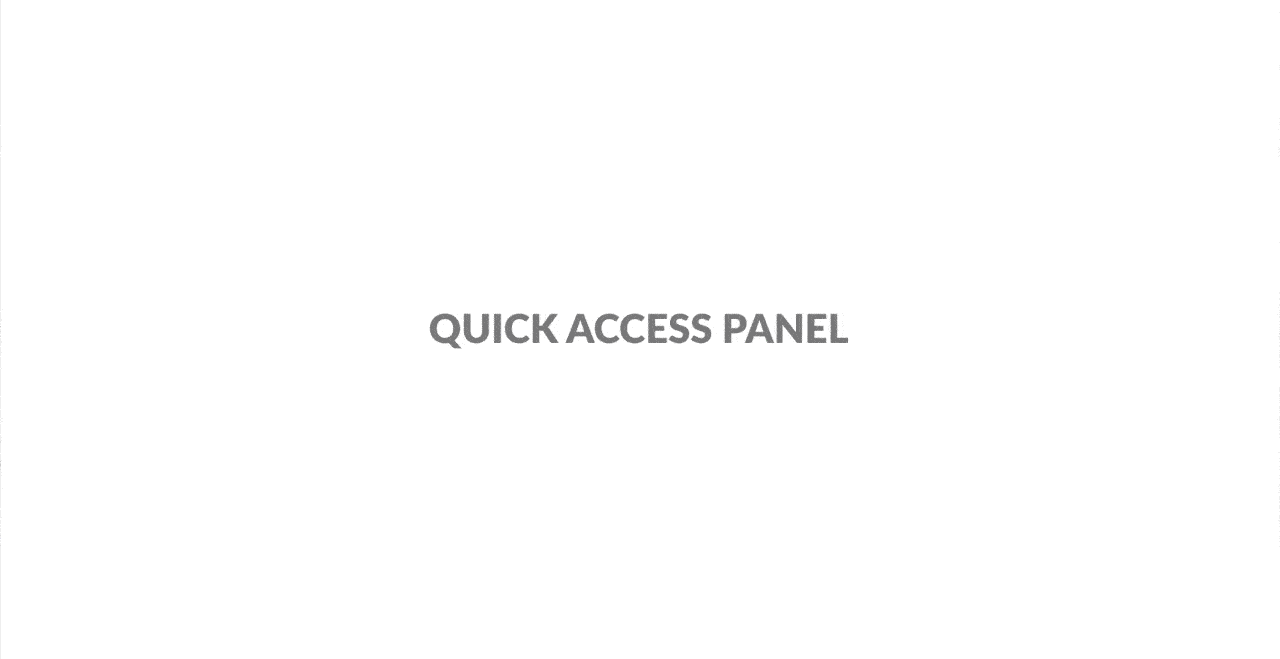 New List View
The platform's List View is used primarily to manage ideas in bulk and for reporting. The updates we've made to the List View now make these tasks easier.
Real-Time Search. Now when you type a term into the search field, results matching the letters as you type them will be listed below in real time.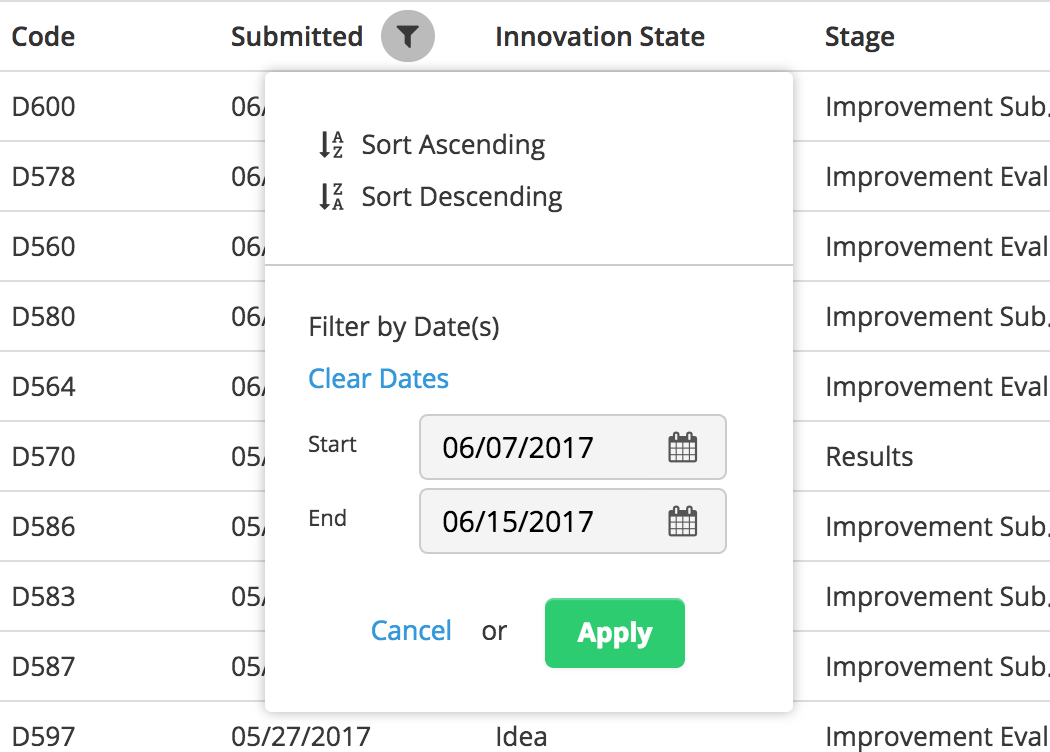 New Filters and Bookmarking.
The visual layout and user experience of the filtering function has been noticeably improved, making it more intuitive and easier to use. It now includes the ability to target a specific date range within the filter (with the option of filtering by only a specific start or end date). For even greater convenience, all filters in this view can now be bookmarked as URLs in any browser, allowing you instant access to previously defined parameters.
Enhanced View Configuration. The column reordering function now supports drag-and-drop, making it much simpler to move columns into the order you want.
New Steps View
The platform's Steps View is used to create and visualize a pipeline of steps along which ideas flow through an initiative, from initial submission to final completion. We've made a number updates to the Steps View that now make finding and viewing this information even easier.
Real-Time Search. A newly added search function now enables you to find any idea based on its title or code. This is especially helpful as the number of ideas in a pipeline grows. And, as in the List View, when you type a term into the search field, results matching the letters as you type them will be listed below in real time.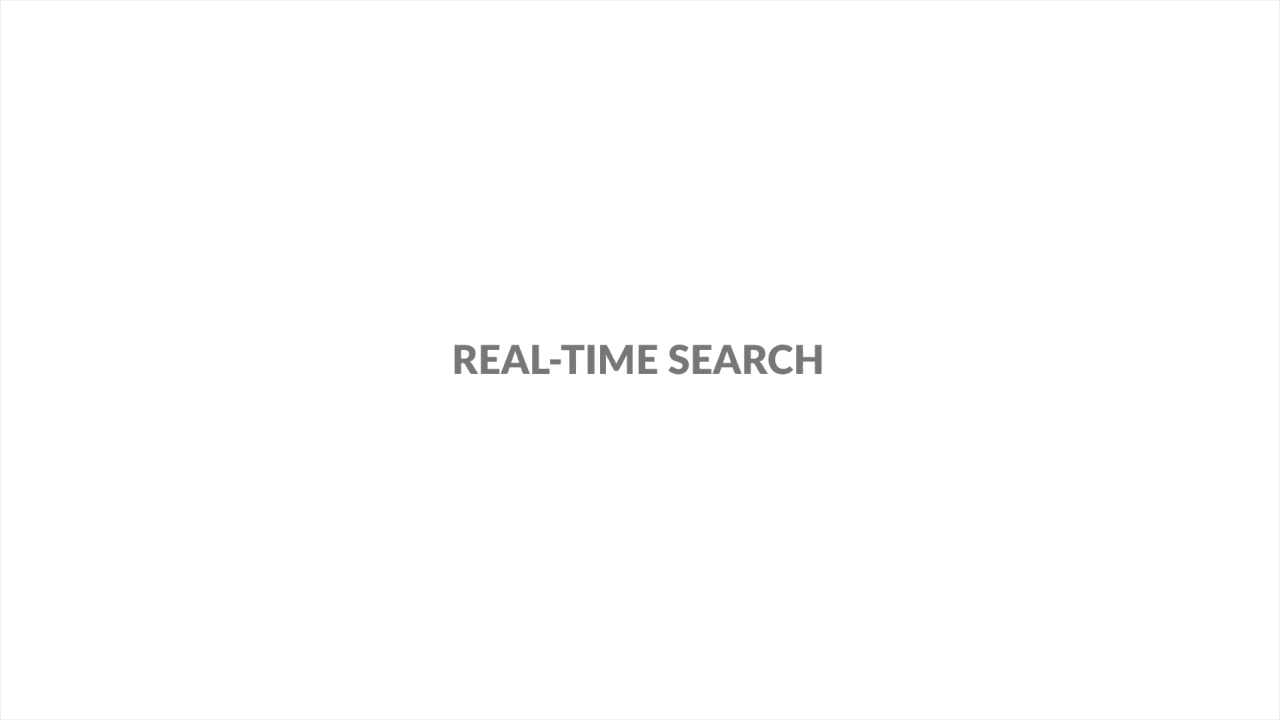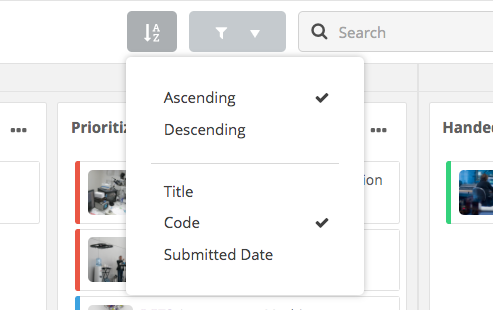 New Sorting Options.
Until now, ideas in the Steps View were, by default, organized alphabetically by their title. But now these ideas can be sorted by title, idea code, or submission date. The new sorting options make it easier to organize and locate ideas based on their relative position in a particular step. What's more, your sorting preferences will be retained the next time you navigate to this page.
Expanded Idea Hover. When hovering your cursor over an idea, the panel of information that appears now displays the idea's full title and description, category, submitter name, submission date, status, and number of days in the step. With that you get more information on the fly without having to navigate away from the page. Idea Hover has also been expanded in the List View.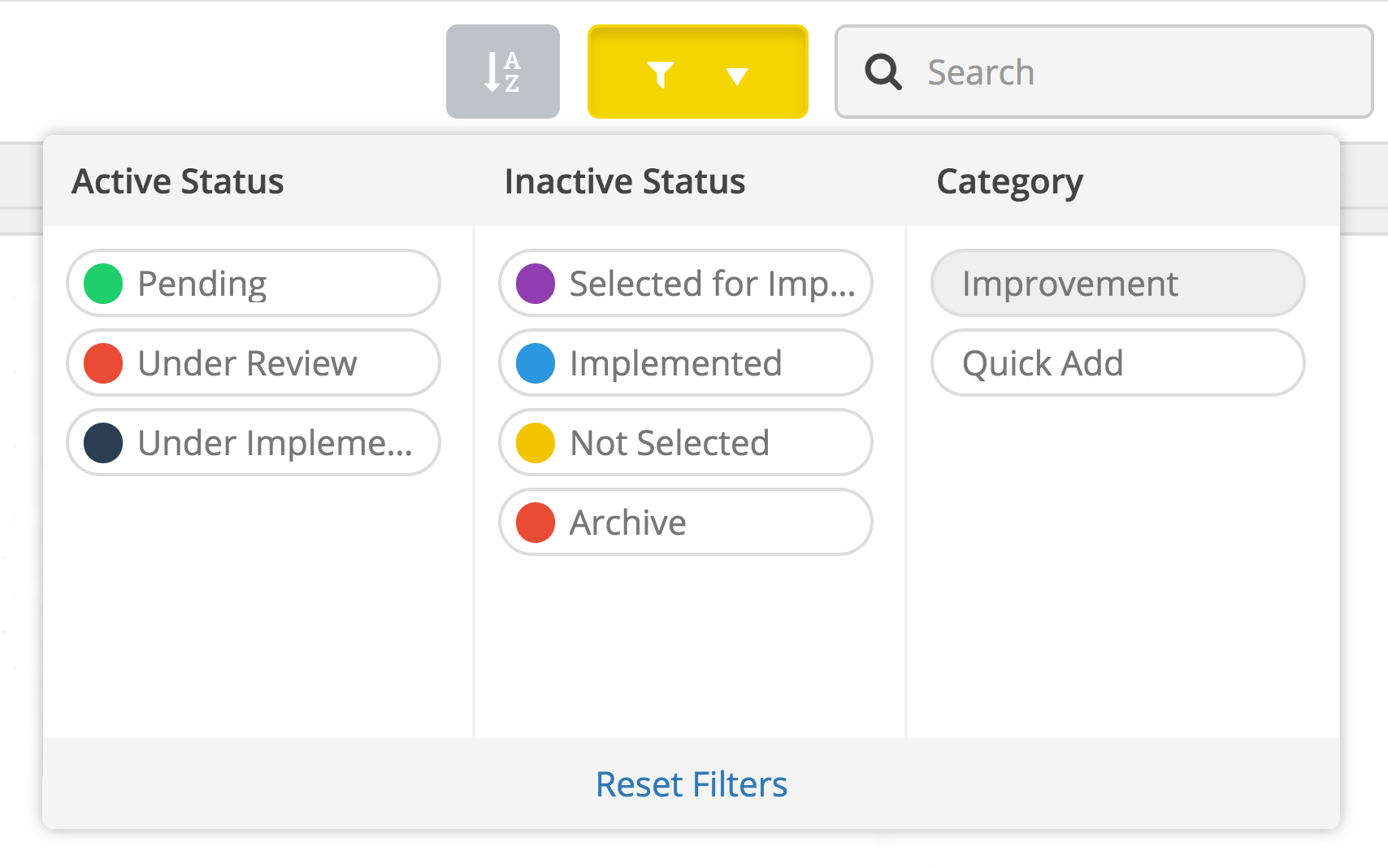 New Filter Panel.
 Previously, you've been able to filter ideas in the Steps View only by their activity status. But now the ideas in this view can be filtered by their categories. Using this great new feature you can see how submissions in any category you've defined are progressing through the pipeline. For added convenience, your filtering preferences are all retained the next time you navigate to this page.
New Capabilities in Beta
Private Comments. Until now, in the View Idea screen, users could post only public comments. We've added a new level of privacy to this view for both administrators and evaluators. They can now submit a private comment to initiate a conversation with other administrators or evaluators and/or with the specific idea submitter.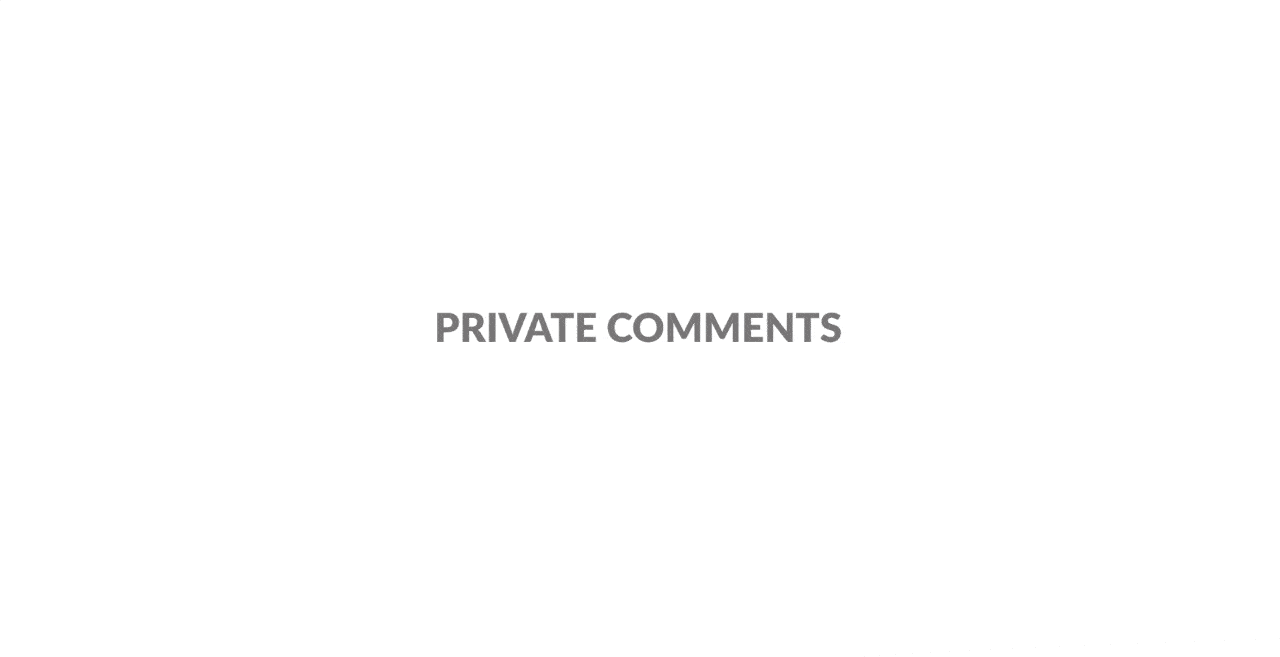 Slack Integration. A powerful tool that brings team communication and collaboration into a single place, Slack is being rapidly adopted by many organizations. And you can now use it to stay on top of your initiatives in Brightidea. Whenever an important event occurs in the platform (such as a new idea or comment being submitted), a notification is sent to a Slack channel of your choice—in real time. Best of all, you can easily add this functionality yourself in just a few short steps; our Setup Guide explains how.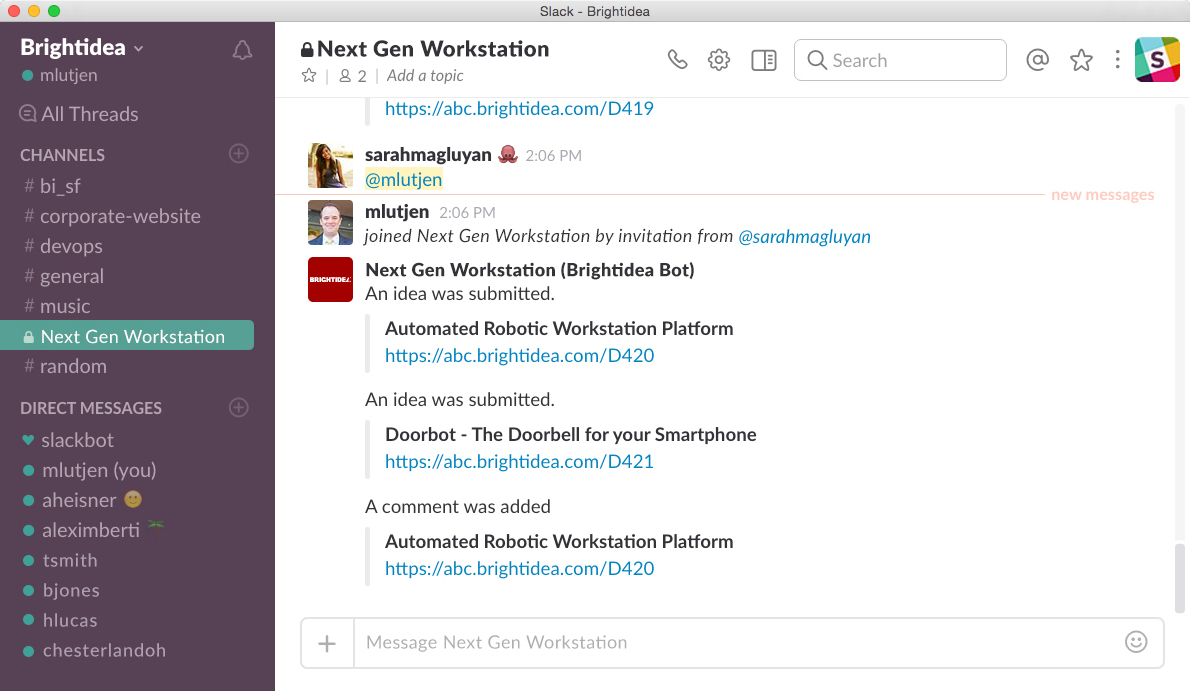 And so, while you're soaking in the rays this summer, rest assured that we're already hard at work planning this year's Synthesize and our big Fall 2017 Release, where we'll once again expand your innovation toolbox. It's all part of our ongoing commitment to build the world's best platform for corporate innovation teams.